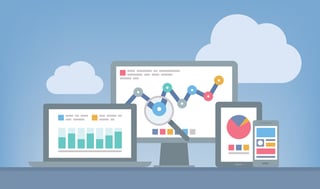 If you put the time, effort and money into developing a website, you're going to want to make sure everything operates as it should. The simplest and most financially conservative, or free, method of tracking your website performance is through Google Analytics.
To get started, you'll need a basic understanding as to why Google Analytics is a tool you want to keep handy in your online-marketing toolbox. Some of the important website questions this tool can help you easily answer include:
How many people are visiting my site? What percentage is new and what percentage are returning?

Where are my site visitors located?

Which pages are my website users visiting most often – or your highest ranking website pages?

How long are visitors spending on your site?

Is your website traffic coming in directly or through a referral site?
Answers to these questions are just a small bit of the large amount of valuable insight offered by installing Google Analytics on your site.
The next step in achieving success with Google Analytics is to install the code on your site and begin tracking your metrics. While installing code on your website may seem daunting at first, the process turns out to be quite simple. So, let's walk through the three simple steps now:
Step1: Create Your Google Analytics Account
Go the Google Analytics web page and click sign in at the top right corner of the page.
Tip: If you already use Google for services like Gmail or Google Drive, it's recommended to use your existing Google Account for consistency purposes.
Step 2: Set up Your Tracking Code
After creating your Analytics account and signing in, you'll be prompted to provide several pieces of information about your website. This information is all relatively straight-forward and is going to be specific to your website. Once you've provided the necessary information click the "Get Tracking ID" button at the bottom of your screen.
Step 3: It's Time to Install Your Tracking Code
After clicking the button to receive your Google Analytics tracking code, Google will generate your tracking code. You're going to want to copy this code and paste it on every page of your website. The method you'll employ will differ based on the setup of your site and what platform you are using (Wordpress, Hubspot, Joomla, Druple, etc.). If you have a website vendor, they should be able to assist you.
After the Google Analytics code is up and running on your website, you're going to start collecting useful data inside your Analytics Dashboard. Without a clear idea of what each metric represents, the large amounts of data displayed in graphs and charts can easily become overwhelming. So, to get started, here are a few of the key terms you'll run into inside your Google Analytics dashboard.

Sessions
Sessions are essentially the total number of visits by individuals who accessed your site over a given time frame. For example, during a session, a person may visit several pages on your website. They then leave your site and come back the following week – that's a new session.
Users
The Users metric measures the number of unique visitors to your site within a given period of time. A good way to differentiate between Sessions and Users is as follows: let's say Joe visited your website five times during the last week. Joe's activity would then be reflected in Google Analytics as five Sessions and one User.
Bounce Rate
Bounce Rate is a measure of single-page page visits to your site. An example of a bounce would be if Joe came to your website and landed on a blog page. After reading the blog article Joe left your site without interacting with any other pages on your website. For now, just keep in mind the lower the bounce rate the better.
SEO Basic Principles
There are also a few basic search engine optimization (SEO) principles to follow. Using our services page, we have included some examples below.
URL
Ideally, you will want to keep your URL at 50-60, or less, characters in length. Your URL is essentially just a more readable text for people and replaces the numbers in the IP address that communicates with servers.
Example: http://www.cmtc.com/manufacturing-solutions/services-and-benefits
H1, H2 & H3 Header Tags
H1 and H2 tags are, in simplistic terms, headings. H1 tags should be used at the top of the content and then decrease as the content funnels down using H2s and H3s where appropriate.

"Manufacturing Services" reflects the main focus of this page, therefore it is ideal to place the phrase inside H1 tags to make it very clear to visitors of the page what they can expect to read about.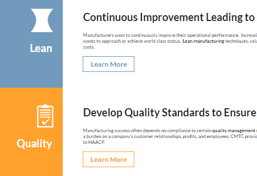 Phrases located further down the page such as "Lean" and "Quality" describe the type of service outlined in the adjacent paragraphs. These are main ideas within the overall page idea of manufacturing services so it makes sense to place them inside H2 tags.Although the example page does not contain any H3 tags, if there were various major points displayed about Lean we would outline those points in H3 tags and elaborate on each point in paragraph text underneathe the H3 text.
Meta Description
Meta descriptions are the mini descriptions you read below the link of your search result. The idea is to persuade the reader into clicking your link and read or engage with the content. As you draft your meta description, you will want to include action-oriented language, solutions or benefits and keep the length under 155 characters.

Content Keywords
Keywords are just as they sound-- the keyword of your message. They should be included into your headlines if possible to increase your search results.
Example:Manufacturing Services and CMTC provides a full range of consulting services... In this example, "Manufacturing Services" and "Consulting Services" are content keyword phrases.
Hopefully, you will find this a quick and easy reference of valuable tips for your website that will assist you in generating visitors to your site.