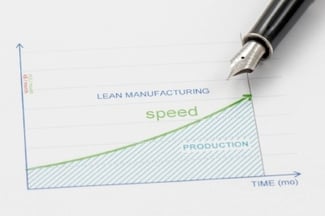 Today's manufacturing industry is helmed by a prevalent principle: reduce waste.
The goal is to add as much value as possible to the customer while doing away with anything that does not contribute to a customer's value.While it may be easy to jump from one specific aspect of your manufacturing process to another, resist that initial urge.
Start Broad and Then Review Several Key Areas
First, take a moment to look at the big picture – the 30,000-foot view of your company. There are several important parts of a manufacturing operation often referred to as "TIMWOOD." The acronym refers to the following to review to uncover possible waste factors. Here's what it means and some practical examples:
Transport –minimize movement of materials so processes are near each other

Ex:Having multiple sites to complete production

Inventory (stock) – aim for 'just-in-time' production

Ex: Fruits of vegetables that perish before being used

Motion – improve workplace ergonomics and reduce unnecessary motion of business operations

Ex: Programs requiring too many clicks for a user's desired destination

Waiting – aim for smooth flow to eliminate waiting periods

Ex: Air travel – waiting for a gate to open

Overproduction – aim to make what the customer orders, just in time

Ex: New models of cars that do not sell

Overprocessing – use resources of appropriate capacity to achieve required quality

Ex: Excessive requirements for online purchases

Defects – aim for zero defects

Ex: Parts created that don't meet safety regulations

Skills (unused) – not using the full potential of staff by wasting their knowledge, experience and ideas

Ex: The rock star that got away
Additional factors to consider for possible waste can be referenced from Lean, which cite potential liabilities including inappropriate systems; energy and water; materials; service and office wastes; customer time; losing customers.
Don't Be a Headline …
Samsung Galaxy Note7– As a powerhouse in the tech industry, Samsung likely had a plenty of waste eliminated when manufacturing the Galaxy Note7. Given an extremely competitive industry, the company rushed to production with a defective battery that ended up costing them millions of dollars.
The first step in identifying process waste factors is to look at the 30,000-foot view of your company
Deeper Internal Analysis
Use reliable data to look at all of your key performance indicators. Do the numbers make sense? Who are your best performers or teams? When output seems fast and efficient, does quality suffer? What's the lifecycle of production given the materials purchased to create a product versus the output you're getting?
Enlist your people when analyzing your most important metrics. Most manufacturers in the United States are small businesses with only a few senior people. Get their input for the big-picture analysis, and ask questions to the rest of the team regarding the finer details of production.
It's better to maintain a collaborative environment without placing blame. That's not what identifying waste is about. Work together and spend time on the shop floor interacting with folks on the ground level for a valuable perspective.
Look Outside the Factory for Improvement
In order to yield optimal value to customers, you have to really understand their perspective. Imagine the inconvenience they may face with delays in receiving your product, or poor customer service. How time-consuming is it to work with you if, for example, they've received the wrong product?
The same goes for your supplier, which is one of the most crucial aspects of manufacturing. The better partner you are to them, the better they're likely to be toward you. You may want to work with them on the dynamics of improving your inventory. They may help you decide whether or not just-in-time inventory (JIT) can benefit your shipping and material fees.
Next Steps
Put it all together by calculating the cost of waste in your manufacturing operations. Think about what you can do to troubleshoot the following waste:
replacement of raw materials
scrap products
delays while faults are identified and remedied
labor costs for making replacement components and products
staff costs in dealing with customer complaints, including possible discounts on further sales
lost business from customers who go elsewhere, or from potential customers who hear of your quality problems
If you have more than one problem listed above, prioritize your biggest pains and put together a plan of execution. You're not in this alone; you have an entire team to help with improvements.