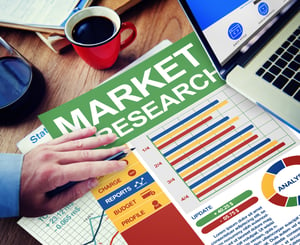 Market research assesses what the market looks like by helping you to identify who you are as a company, where your competition stands in relation to you, what markets you could penetrate and how you can enhance your current customer data.
In the previous installment of this six-part series, we discussed the process needed to create a quick sale. This installment will discuss how you can use your market research to effectively manage and grow your manufacturing organization. Market research will enhance and improve your unique selling proposition for your target audience. You can use market research to gain insight into your ideal customers' actions, the markets you serve, the customers you sell to, your competition and new markets you can penetrate.
Using Your Unique Selling Proposition (USP)
In our first blog post, we focused on internal surveys and data to develop a clearer picture of who you are as a company and began developing your USP. In this post, we will be focusing on how market research will enhance the development of your USP starting with customer surveys.
Customer Survey
Customer surveys are just one aspect of market research that will successfully help you spur growth by giving you information you might not have known before. Customer surveys capture what is and isn't resonating with your customers.
A telephone survey is a direct approach and allows you to craft a personalized conversation with your customer. However, using email will likely have the most return (response rate) as it is more convenient for the customer and can be anonymous. This helps you gain insight on what products and services are delighting your customers and can easily be created with online survey tools, such as:
Survey Monkey

Kwik Surveys

Snap Surveys

Survey Planet
You may have identified your USP based on internal information gathered, but your customers may perceive your USP as something totally different. In order to avoid this, sprinkle some questions about what they think your USP is throughout the survey. Try including questions, such as:
Were there any other companies you considered purchasing from before ours?

Why did you decide to purchase from us?

Did we meet your needs?

Where do you seek new information about products, services and vendors?
Asking your customers these types of questions will help to finalize your USP that resonates with your customers and potential customers in a more advanced way.
Understanding Your Competition
What your competitors do directly affects your business either positively or negatively, so knowing your competition is beneficial and the key to staying ahead in the marketplace. Using market research is one tool to effectively beat out your competition. How do you know what to be proactive about or prepared for if you don't know your competitors?
With competitor research, you need to gain as much insight on your competitors as possible by:
Thoroughly analyzing their website

Anonymously contacting them

Viewing their advertising

Visit their booth at a trade show

Linking to their social media

Signing up to receive their newsletter (if they have one)
In our first post of this sales and marketing series, you created your USP based on the internal value that you offer as a company. Now, you can use market research that identified what your competitors offer customers in comparison to you to modify your USP. Use your feedback from your customer surveys to carefully craft the message of your USP. This will differentiate your company from your competitors resulting in a truly custom and unique USP for your organization.
Exploring New Markets
Using this aspect of market research generally helps guide you through transitioning into new markets. This is one of the riskiest moves a company can make and it is challenging. Your research will be different and should include:
Identifying channels of distribution

Reviewing the current markets

Understanding sales cycle lengths

Detecting any other unknowns
Many companies will try to expand and grow their customer base by introducing new products and services to new customers; however, the key is to sell new products to new customers while retaining their existing customers.
Enhancing Your Database with Market Research
Databases make it easy to communicate with your audience and increase the likelihood of prospects becoming customers and returning more frequently by tailoring your message to them and by knowing their needs.
Basic contact information should be collected and stored in a database. You can start collecting this data from potential customers who contact you first for a quote or for further information on your products and services. To create even more effective communication, you should segment your database by products purchased, company size or type, revenue size, geography etc. to create a tailored message that will resonate with each customer on their level.
Using Your Market Research Effectively
There are many areas of market research that should be assessed. Market research helps you gain insight on your current audience, your competition, potential new markets and helps to enhance your existing database. Through these research channels, you can develop a more tailored unique selling proposition.
In the next installment, we will discuss how you can use select marketing tactics to foster growth and what your next steps are to meet your growth goal.