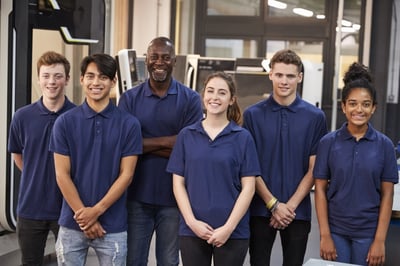 It's just one month away! Manufacturing Day 2018 officially arrives on Friday, October 5. This annual celebration gives small and medium-sized manufacturers (SMMs) the chance to showcase their products and capabilities to students, educators, businesspeople, politicians, and the media. The annual event also helps to dispel misconceptions about modern manufacturing in order to aid in the recruitment of the next generation of talent.
Read More
Topics: Manufacturing, Workforce Development, Manufacturing Tips, employee retirement, networking, manufacturing careers, MFG DAY, Future of Manufacturing, recruiting
When seeking out a new job, potential employees want to understand what will be expected of them and how they will be evaluated if brought onboard; on the other hand, employers want to be sure they are interviewing the right candidates for the right job, and not wasting valuable time interviewing under- or over-qualified individuals. One way to ensure each party gets what they want is to craft a well-thought-out and detailed job description.
Read More
Topics: Millennials, Manufacturers in Training, Maufacturing, Manufacturing Solutiions, motivating employees, employee retirement, employee tribal knowledge, Employee Training, networking, Diversity Training, Workplace Diversity, digital transformation, manufacturing careers, MFG DAY, Future of Manufacturing, job descriptions, recruiting
By 2025, nearly 25 percent of the United States population is expected to be 60 years of age or older. With this demographic preparing to exit the workforce and enter retirement, what can be done to retain their knowledge and pass it down to the next generation of employees? After all, a good portion of the knowledge that our "employee elders" possess is not written down or stored within a computer—it's stored in their head. And this is especially true within the manufacturing sector.
Read More
Topics: employee retirement, tribal knowledge in manufacturing, employee tribal knowledge, tribal knowledge