---
Challenge
Beginning in 2007, D'Addario identified a strategic goal to dramatically increase profit margins and market share. Their Sun Vally reed manufacturing operation had been updated with new equipment throughout the years as technology changed; however, there was still room for improvement. They needed to reduce costs, improve operational efficiency, and create a culture of continuous improvement if they wanted to increase their profit margins and market share in this unique industry.
Solution
CMTC consultants worked with the D'Addario team in Sun Valley location between July 2008 and December 2009. The training included Lean Leadership, Lean Manufacturing principles and tools including Value Stream Mapping, 6S, Cellular Flow, Pull/Kanban Systems, and Kaizen events. The facilitation of the project teams was interactive with participants working in groups on their own factory floor and implementing concepts as they were learning them. Employees experienced a personal connection to the training with practical application.
The results were so positive that D'Addario conducted a similar project at their Mendoza, Argentina facility between April and May 2010. Similar improvements to inventory investment and productivity for their cane farming and splitting operation were achieved.
"CMTC did a good job working with us to define specific training and to identify and select the best consultants/trainers for our needs. They were flexible with the training schedule as we had to adjust to business conditions from time to time."

Gary Smith
West Coast Operations
VP and GM, D'Addario

Download This Case Study
16% Increase in Productivity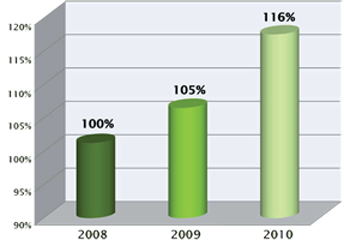 Financial & Productivity Results
16% increase in productivity and reduced inventory at the Sun Valley plant
32% decrease in inventory investment
70% reduction in the movement of the product through the production cycle
20% decrease in manufacturing floor space