Written by: Terry Weiner

The following post is #5 of a series and discusses how to communicate with your supply chain partners. This series of posts will provide an overview of the Supply Chain Optimization process and preview some of the concepts and tools that are part of the Manufacturing Extension Partnership (MEP) Supply Chain Optimization Initiative. Click here to read earlier posts.



How to Deploy Your Supply Chain Strategy and Communicate to Partners
Once the strategy has been defined and the metrics developed, it is time to meet with your critical suppliers to communicate your strategy an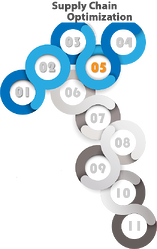 d work with them to develop their own supply chain assessment and improvement strategy.
Suppliers who are on the supply chain critical path are invited to a one-day meeting where your supply chain strategy is discussed, and current, midterm and long-term objectives are explained. The actions needed to develop the throughput and capacity to meet current and future demand is discussed. Suppliers need to be capable of responding to the variation in demand that is ever present in the supply chain.

The key points that are covered in this one-day work session are: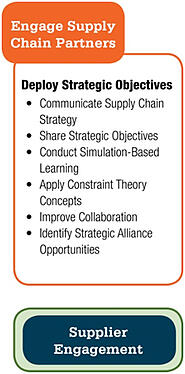 Communicate Top Tier/Host supply chain strategy

Supply Chain Fundamentals

A brief introduction to Constraint Theory

A three round supply chain simulation to emphasize the effects of variation and dependency

Assessment of the Supply Chain Partner's Supply Chain Maturity

Understand the Supply Chain Partner's role in the overall value chain and the impact/interaction that they have on other members of the supply chain

Develop strategies and executive tactics to address performance of Supply Chain Partners.
An on-site evaluation is done to determine the supplier's current state and to assist them in the development of a long-term improvement plan. It is critical to include operational metrics for the periodic reporting of performance to plan. These metrics are used by the top-tier organization to make certain that the critical suppliers stay on track. If performance doesn't meet agreed to expectations, a correction plan is developed by the supplier to get back on track.
The top-tier organization compiles the periodic supplier reports into an easily read dashboard to assess suppliers who should be rewarded for progress and those who should be provided additional assistance. Suppliers can use internal resources or consulting assistance to achieve reductions in lead-time and improved throughput.
A collaborative approach needs to be used to encourage suppliers to make the improvements that help them to become a more valuable resource. Efforts should also be made to encourage innovation by the suppliers that can lead to additional value to your organization and to a more profitable business for the supplier.
What's Next?
In future posts, we will look at the following components of the Supply Chain Optimization Initiative - Link by Link:
| | | | |
| --- | --- | --- | --- |
| | What is Your Risk Management Strategy? | | How Can You Determine Supply Chain Optimization vs. Supplier Development? |
| | How Do You Determine Total Cost of Ownership? | | How do I Assess Supply Chain Maturity? |
| | What are the "Twin Killers" of an Efficient Supply Chain? | | The Final Link - Creating Supply Chain Visibility |
Terry Weiner is a Senior Consultant with California Manufacturing Technology Consulting® (CMTC). He has over 20 years experience in process improvements, quality management implementation and supply chain optimization.