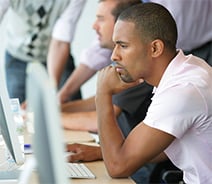 What can be better than a blog entry about blogging? If you're a manufacturer in California, you should definitely have a blog on your website! This is why blogging is Part 4 in our series, social media for manufacturers. Earlier blog entries capture LinkedIn, Facebook and Twitter.
Blogging is an important part of a company's marketing strategy. Blogs drive traffic to your website and have the potential to increase the number of leads and sales your company obtains. Research from HubSpot found that companies that blog have far better marketing results, such as 55% more website visitors, 97% more inbound links and 434% more indexed pages. These significant improvements show that it is worthwhile for a company to maintain a blog!
In case you aren't exactly sure, Wikipedia actually provides a pretty good definition of a blog:
A blog is a discussion or informational site published on the World Wide Web (www) and consisting of discrete entries ("posts") typically displayed in reverse chronological order (the most recent post appears first).
If you're a manufacturer, you can use your blog entries to discuss important topics in your industry that are important to your target audience. This positions your company as a subject matter expert and builds credibility for your business on the Internet. Here are some tips for your blog:
Write Like You Speak

 - You don't have to be Hemingway or Vonnegut to write one. Even though it's for your business, you can be conversational.
Content - 

Look... everything you blog about doesn't need to be some brilliant Mark Twain insight. Pick topics that are of interest for your prospective clients / readers. If you're unsure if what you're writing is business appropriate... ask a respected and knowledgeable co-worker to read it before you publish.
Links
 -
 When you're writing entries, link certain keywords and phrases to other pages on your website. This way, website visitors can find out more information about your products and services if they so desire. For example, let's say you're a shoe manufacturer and your target audience is runners. The topic of your blog entry is, "Ten Tips for Running a Marathon" and tip #7 is "Buy Proper Running Shoes". Instead of just selling your shoes in this section, hyperlink the words, "Buy Proper Running Shoes" to your products page where people can view all of your shoes and place an order.
Turn Your Blog Into A Magnet - Commenting on other blogs can create what we call "inbound links." When you provide insightful feedback, it invites others to discover your content.
Consistency / Scheduling – When it comes to blog content, quality is more important than quantity. However, it doesn't look good if you don't consistently update your blog. In fact, if you're only going to have one blog entry every six months, it's better not to start one at all. One blog entry a week is a good goal. Writing a blog entry every week may be difficult for some companies, so it's helpful to have a blogging schedule. Divvy up the entries between staff members to ensure a flow of content. If this isn't doable internally, consider reaching out to an outside vendor to help you with blog content.
Optimize your Blog for Search - Placing keywords at the beginning of the title and throughout the post helps it get indexed and ranked higher by search engines. For more information about Search Engine Optimization (SEO), click here.
Promote your Blog - Promoting your blog updates on your other social media accounts (Facebook, Twitter, LinkedIn and Google+) alerts your followers and people interested in your company or industry, therefore increasing readership.
Pay Attention To Blog Analytics - By looking at the analytics behind your blog, you are able to determine which posts got the most traffic and are therefore the most popular topics among your readers.
Use a Comment Box - This allows readers the opportunity to give feedback and ask questions, allowing you to reply with suggestions or solutions to their problems (that possibly your product or service could provide).
Blogging can help you consistently provide fresh content for your website and attract individuals who are searching for information on your website. Consider integrating a blog with your website and help your online presence!
Contact your website developer to see if your website has the capability to host and update a company blog. If your website doesn't have the capability, there are other options. Many businesses turn to WordPress to create their blog. You can find out more information and sign up for WordPress by clicking here. Google blogger is also a viable option.
This reminds me… there's a certain blog you should subscribe to if you haven't had the chance… our Manufacturing Network blog! By subscribing to our blog, you can get notified when the newest entries are posted. All you have to do is enter your email address and click 'subscribe' where it says Subscribe by Email on the upper-right-hand portion of your screen.
By connecting with Made in California on social media, you can also stay on top of industry news and network with other California manufacturers. Connect with us here: