Introducing Our Advanced Robotics and Automation Practice
CMTC is pleased to announce the addition of Advanced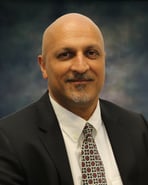 Robotics and Automation (ARA) consulting to our portfolio of manufacturing services throughout our California's Manufacturing Network. Raminder Sandhu has joined CMTC in the position of Advanced Robotics & Automation Practice Lead. Raminder brings over 30 years of experience in engineering, manufacturing automation and technical sales to CMTC. He has worked at a diverse range of organizations, from Silicon Valley startups to Fortune 50 companies. In addition to Raminder's expertise, CMTC has developed relationships with key resource partners across the state from industry, economic development and academia to support the advanced robotics and automation needs of small and medium-sized businesses.
Robotics and automation have steadily advanced since first introduced to factory floors in the early 1960s. With advances in sensing and machine learning, today's robots are more intelligent, versatile, flexible, and steadily falling in cost. With collaborative robots (cobots), workers are able to safely interact with the machines that can now do repetitive, hazardous and ergonomically challenging tasks.
The result is improved worker safety and reduced lost-time costs. Industrial robotics and automation has become a priority for manufacturers as tighter labor markets and competitive pressures drive change. Small and medium-sized manufacturers who previously couldn't afford robotics and automation are increasingly finding positive ROI as the cost of automation falls and the ease of use rises. Teaming human workers with robots on the assembly line will fundamentally change how products are manufactured. Recent studies have shown that the use of robotics and automation is actually helping boost productivity rather than reduce jobs.
CMTC is well positioned to assist small and medium-sized manufacturers in mapping-out strategies and determining the benefits of robotics and automation on their business. We are also well qualified to help our clients develop a strategy for the adoption of robotics and automation on the factory floor.
For further information, please contact Raminder Sandhu directly at rsandhu@cmtc.com.
---
EVENTS
Stay tuned. Additional events are right around the corner.