Airwolf 3D is committed to manufacturing high-performance 3D printers that are fast, affordable, durable and easy to use. Airwolf 3D printers can be found in engineering firms, government agencies and schools worldwide.

Products and Services
We are a manufacturer of additive manufacturing equipment and supplies. We design 3d printers, filaments, adhesives and additive manufacturing software. Airwolf 3D's patented technologies are supplied to a wide range of industries including industrial, automotive, education medical, dental, and others.
Manufacturing Processes
Airwolf 3D's manufacturing processes include: molding, machining, laser cutting, fabrication, additive manufacturing and extrusion.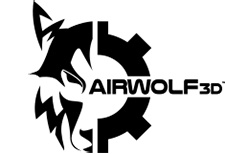 Contact This Manufacturer
Company Name: Airwolf 3D
Category: Machinery
Location: Fountain Valley
Contact Person: Eva Wolf
Phone: 949-478-2933
Email: @
Website: https://airwolf3d.com