Tim and Donna Mast pursued their entrepreneurial dreams with CryoWorks in 2009. They began with their desire to take control of product quality and company culture. And since then, they've excelled in serving customers of all sorts with their knowledgeable staff and exceptional designs. Each individual of the CryoWorks family is proud to take part in the sales, design, engineering, and installation of cryogenic piping systems. Our Mission is To "make it happen, make it easy, make it fun" so that all customers, vendors, employees, and their families, value their relationship with CryoWorks as much as we value them.
Products and Services
CryoWorks, Inc. designs, manufactures and installs cryogenic piping systems and components. Cryogenic products and equipment are used to generate, transfer, and store cryogens at extremely low temperatures for a wide variety of markets.
Our products include:
Commercial Vacuum Insulated Piping
Large Bore Vacuum Insulated Piping
Vacuum Insulated Cryogenic Pipes
Vacuum Insulated Cryogenic Transfer Hoses
Flexible Cryogenic Metal Hoses
Cryogenic Valves
Cryogenic Keepfull Vent Devices
Cryogenic Phase Separators
Cryogenic Filling Stations
Dosing
Cryogenic Tank / Vaporizers
Misc. Cryogenic Systems Safety Equipment
Cryogenic Assemblies and Accessories
Our services include:
Cryogenic Project Management - Whether you are an end-user, the installation contractor, or the gas supplier, we can manage your project.
Cryogenic Design and Engineering (2D and 3D Modeling and Stress Analysis)
We set ourselves apart by providing onsite design and engineering support pre-contract. Whether you have a tight schedule or a limited budget, contact CryoWorks, and we will make it happen.
Project Coordination
Pressure Testing
Flow Testing
Onsite installation and repair services
Ongoing Customer Support
Industries we serve:
CryoWorks is a leader in the field of cryogenic piping systems. We are proud to have engineered, designed, installed, and maintained cryogenic transfer systems for a wide variety of organizations, from startups to Fortune 500 companies. Our expertise brings value to a diverse set of markets such as aerospace and defense, entertainment, clean energy (LNG and LH2), food and beverage, semiconductor, electronics, industrial gas, solar, research and development, medical, pharmaceutical, and automotive.
Manufacturing Processes
In our single California location, we design and manufacture vacuum insulated piping for customers nationwide. We provide onsite design and engineering support. All of our products are fabricated here in our facility. Our vacuum insulated pipe is welded with a stainless steel inner and outer pipe. The space in between is superinsulated and has a high vacuum. Vacuum Insulated Pipe is the preferred method for transporting cryogenic liquids and is unmatched in safety, reliability, and cost-effectiveness.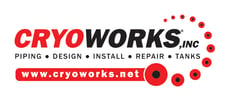 Contact This Manufacturer
Company Name: CryoWorks, Inc.
Category: Fabricated Metal Products
Location: Riverside
Contact Person: Sales at CryoWorks
Phone: 951-360-0920
Email: @
Website: http://www.cryoworks.net