We design and build industrial & personal light vehicles for transporting goods and getting around.

Get your work and errands done faster, efficiently – and support goods made in California.

Products and Services
The Nimble Advantage

Virtually anything can be carried in Nimble Scooters. Colorful, convenient, and easy to maneuver, they are great for short trips like carrying groceries home from the supermarket or transporting tools across a factory floor. The possibilities are endless. The best part – Nimble Scooters are FUN. Try one, and you'll feel like a kid again.

The Nimble Classic

Our very first design reflects our desire to help people carry their gear over short distances in a fun and convenient way. Popular with small businesses, families and warehouse facilities.

The Nimble XL

Our heavy duty industrial warehouse scooter. With 5 wheels & two hand brakes, the foot deck folds up to save space and turn into a cart. Entirely made in California.

Great for saving time in tasks like materials handling, picking, facilities maintenance, servicing, internal logistics.

The Nimble Urban

Our answer for urban spaces. A folding, versatile kick-scooter with an incredibly smooth ride, plus a generous capacity for carrying your gear, whether it's with saddle bags or a flat rack. Perfect for parents with kids, for shopping or running errands around town, and even on campus at university or work.


Manufacturing Processes
Proudly designed & assembled in California.
Our roto-molded cargo tubs: From the very beginning and even through the latest economic slur, we have been making our tubs at Spin Products Inc. of Chino, CA, They roto-mold using high quality single and double molds for our cargo scooters using high density polyethylene.
Colson Performa Wheels: Colson Caster Corp. of Jonesboro, Ark., supplies our Performa-brand 6-inch-by-0.5-inch wheels with non-marking thermoplastic elastomer permanently bonded to the ribbed polyolefin core.
Wooden Deck: Commercial Custom Seating & Upholstery Inc. of Garden Grove, CA, makes our multi-layer wood decks using skateboard-style technology. Our decks are varnished with matching dyes. They also make our wood cargo crates, using high end Baltic Birch plywood. Other capabilities include wood sublimation, which we can also provide for customers who desire custom graphics on their decks.
Welding, Aluminum Extrusion: Our scooter frames are made in China in the same factory that makes Raleigh and Alprace bicycles. The frame is composed of aluminium parts locally extruded and welded. Nimble Scooters finalizes assembly in California, and prepares each parcel for shipment in our own warehouse.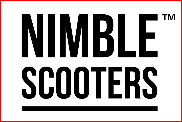 Contact This Manufacturer
Company Name: Nimble Scooters LLC
Category: Fabricated Metal Products
Location: Tustin, CA
Contact Person: Alix Armour
Phone: 949-407-9765
Email: @
Website: http://www.nimblescooters.com