Once in a Licetime has established itself as leading experts in the field of removing and preventing head lice, and is dedicated to eradicating head lice infestations from your life, "Once" and for all. In recent years, head lice have evolved into strains that are now resistant to over the counter (OTC) formulations. In response, Once in a Licetime has engineered an all-natural, enzyme based array of products that we manufacture, package, and sell globally. The products range from head lice eliminators to head lice prevention formulations.
Products and Services
Years of experience, research, and proficiency in this industry, have enabled Once in a Licetime to develop lice treatment and prevention products that are not only safe and effective, but also outstanding hair care products that smell great!!

Once in a Licetime's head lice elimination products are Natural Enzyme Removal Treatment with mousse applicator, Lice-X Household Lice Eliminator Spray, and specially designed stainless steel Nit-Free Comb. The lice elimination products are composed of an all natural, non-toxic, enzyme based formulation that eliminates head lice without heat, pesticides, pain, or discomfort. Our stainless steel Nit-Free Comb is specially designed to drag live lice and their eggs (nits) out safely, effectively and without pain or discomfort.

Once in a Licetime's lice prevention products are the Natural Repel Shampoo and Conditioner, Hair Spray, and Detangling Preventative Spray. The shampoo and conditioner contain 8 essential oils, are sulfate free, and effective yet, gentle enough to use daily. There is a pleasant fragrance from the essential oils that is only offensive to head lice. Our detangler spray contains all natural lice repelling ingredients and detangles hair while leaving it with a pleasant peppermint fragrance. Once in a Licetime's hair spray provides outstanding hold while creating a surface coating on hair strands that lice have extreme difficulty grasping on to.

Once in a Licetime's products allow your clients to effectively eliminate their head lice and prevent future occurrences of head lice in a pain free manner in the comfort of their own homes.
Manufacturing Processes
Once in a Licetime has gone to great lengths to develop and manufacture lice treatment and prevention products that are safe, all-natural, non-toxic, and 100% effective. Given that most head lice strains are now resistant to over the counter (OTC) lice treatment remedies, Once in a Licetime has worked diligently over the years to develop and perfect a specific formulation of enzymes and other non-active ingredients that result in a product that effectively eliminates all head lice strains. The persistence and dedication in selecting the right enzymes, combining them in the correct amounts, and manufacturing the ingredients in a sterile, temperature controlled environment, has yielded a superior set of all natural products that will effectively eradicate any strain of head lice, and prevent a re-infestation.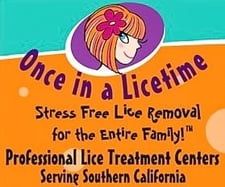 Contact This Manufacturer
Company Name: Once in a Licetime
Category: Chemical
Location: Corona Del Mar
Contact Person: Shannon Nounna-Saathoff
Phone: 949-933-8619
Email: @
Website: http://www.onceinalicetime.com