Plas-Ties manufactures the highest quality twist tying machines to help your company accelerate product bundling, minimize manual labor and elevate your productivity.

For over 50 years, Plas-Ties has been a leading manufacturer of twist-tying machinery and is committed to optimizing solutions to your packaging and bundling needs. Using cutting-edge technology, Plas-Ties has designed machines to improve production and employee safety. The efficiency of twist-tying machines increase productivity by working faster than tedious hand tying while decreasing employee fatigue. The twist-tying machines are ideal for securing cable, wires, cords, hangers, agricultural bundles, produce and bags of food from 3/8" up to 8" in diameter. The efficiency and convenience of Plas-Ties twist-tying machines provide secure solutions for your tying requirements.
Customer Benefits:
Same day custom quote
Personal account manager
Bilingual customer service representatives
Fast turnaround times
Expedited shipping
Largest variety of twist tie machinery
Made in the USA
Machine Features:
Twist Tying with speed and precision
Faster than hand-tying with an air-tight seal
All-metal, industrial frames
Portable, accommodates various workstations
Printer accessory for customized applications
Easy to use with several spool varieties; from elegant to heavy-duty
Products & Services:
The TIE-MATIC HD SERIES of machines offer speed and portability with tying speeds of up to 60 ties per minute with 2 1/2 secure twists.
Tie-Matic HD38

3/8" maximum capacity
Ideal for baked goods closures
Tie-Matic HD58

5/8" maximum capacity
Perfect for small poly bags & cables
Tie-Matic HD78

Has a 7/8" maximum capacity guide
Designed to accommodate small bundles of wire
The XL SERIES of twist tie machines provide industrial strength closures with versatility and precision.
XL2 Twist Tying Machine

Has a maximum capacity of 2"
Expertly bundles cables with ease



XLS-3 with Smart Post

Newest addition to the XL Twist Tying Machine Lineup.
With the Smart Post, your small diameter products are quickly bundled



XLS-4 Smart Tyer

Has a 4" maximum capacity with an on-board Programming Logic Board
Allows for user control over the # of twists, speed and tie tension
Delicate products requiring a loose tie would benefit greatly from the PLC driven controls.
XL8 Air Ring Tyer

100% air-driven, industrial workhorse
Self-Adjusting Ring options up to 8"
Can bundle objects from 1-8"

Contact This Manufacturer
Company Name: Plas-Ties
Category: General Purpose Machinery
Location: Tustin, CA
Contact Person: Carlos Contreras
Phone: 714-542-4487
Email: @
Website: http://www.plasties.com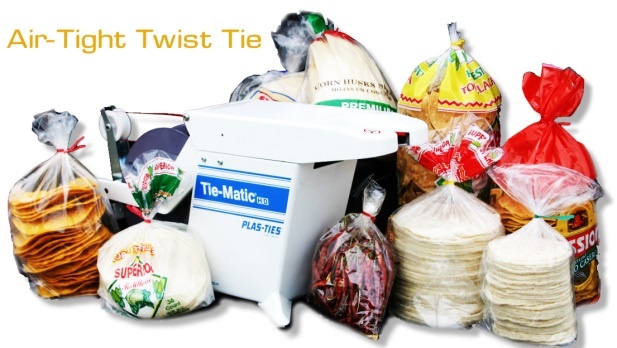 Air-Tight Twist Tie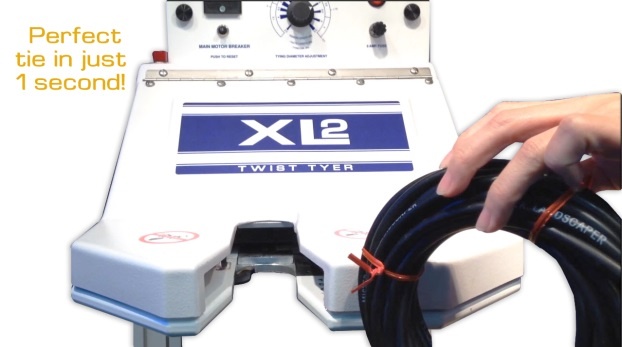 Perfect Tie In Just 1 Second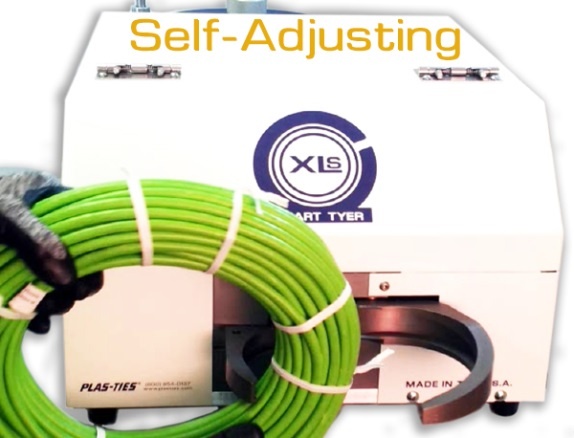 Self-Adjusting
Plas-Ties: Twist Tying Machines
HD Tie Matic Twist Tie Machine: air tight seal - Balloon test
Are you a CA Manufacturer?
Join our Made in CA program and get your company featured for free!