Webber Automation is committed to deliver products that have a significant impact on the water bottling industry. Led by a team with over 40 years of extensive design experience, we are confident in the performance of our machines.

Products and Services
WRX 1200 is designed from the ground up to be the safest, most exhilarating rack loader on the market. With unparalleled performance delivered through Webber's unique, all-electric powertrain, WRX 1200 loads 5 bottles in as little as 2.5 seconds. The WRX 1200 comes with open formula capabilities designed to accommodate your current operation, stress free.
Manufacturing Processes
Engineering, its the core talent at Webber Automation. We come to work everyday with the virtue of building things bigger, better, and stronger than any other market choice. Being a company solely focused on the water beverage industry, we deliver solutions that are specifically designed to your needs. No more, no less, a Webber Automation Product is going to perform with finesse.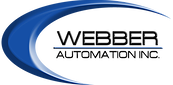 Contact This Manufacturer
Company Name: Webber Automation
Category: Machinery
Location: Corona, CA
Contact Person: Les Webber
Phone: 949-295-0769
Email: @
Website: https://www.webberautomation.com