National Manufacturing Day Mission
National Manufacturing Day addresses common misperceptions about manufacturing by giving manufacturers an opportunity to open their doors and show, in a coordinated effort, what manufacturing is — and what it isn't. By working together during and after MFG DAY, manufacturers will begin to address the skilled labor shortage they face, connect with future generations, take charge of the public image of manufacturing, and ensure the ongoing prosperity of the whole industry.
---
To further expand on National Manufacturing Day, CMTC has created Manufacturing Month - CA to encompass the wide range of manufacturing activities throughout the month of October!
---

Manufacturing Month - CA is designed to amplify the voice of individual manufacturers and coordinate a collective chorus of manufacturers with common concerns and challenges. The rallying point for a growing mass movement, Manufacturing Month - CA empowers manufacturers to come together to address their collective challenges so they can help their communities and future generations thrive.
---
What is Manufacturing Day?
National Manufacturing Day is observed annually on the first Friday in October. CMTC celebrates California manufacturers throughout the month of October. These manufacturers create jobs through entrepreneurship, and their competitiveness revitalizes American manufacturing.
Throughout the month, manufacturers open their doors and take up the important work of inspiring our young people to pursue careers in manufacturing and engineering. Today's science, technology, engineering, and math graduates will power the next chapter of American production and innovation, and harnessing their potential is an economic imperative.
Watch Video by MFGDay.com
Why you should register your Manufacturing Month - CA event.
---
Pairing Schools With Manufacturers
As part of our mission, "To serve manufacturing as a trusted advisor providing solutions that impact and grow the California economy," CMTC works with high schools, middle schools and adult education centers in California to partner them with manufacturers in their area to provide first-hand learning experiences for students — especially those in ROP, STEM and CTE programs.
Schools: If you would like your students to attend a Manufacturing Day event
Manufacturers: If you would like to host students at your Manufacturing Day event
Please contact CMTC's Outreach & Communications Manager, Steve Brand, at sbrand@cmtc.com or by phone at (310) 263-3018.

Click Here to View List of Schools interested in Participating in Manufacturing Month - CA 2019

---
Want to get students interested in a career in manufacturing?

Download our Manufacturing Month - CA Student Flyer which has all sorts of cool facts and graphics!

---
MFG DAY 2018 was a resounding success for California!
251 host sites were registered on MFGDAY.com with over 330 manufacturers and support organizations participating in events throughout the month of October. CMTC actively participated by sponsoring, organizing and matching up manufacturers with schools wishing to participate, or by lending our support by exhibiting or attending. We are proud that so many of the manufacturers featured here are CMTC clients and/or participants in our Made in CA program. Here are highlights from the organizations that participated in events for 2018.
We would like to extend a special Thank You to all of the manufacturers, schools, stakeholders and other organizations and individuals who helped make Manufacturing Day 2018 such a huge success.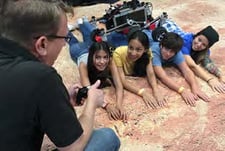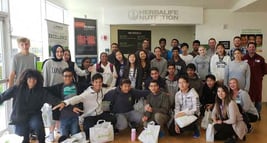 ---
---
Community Events
Check back soon to see scheduled community events!

---
See What Participants Are Saying About Manufacturing Day.....

We need to get kids excited about manufacturing. ...we need them desperately. They're scratching their heads a lot and getting curious and that's really what National Manufacturing Day is all about, to fertilize their curiosity.*



—Gary Johnson,
VP, Ace Clearwater Enterprises
I get all my students jobs and in order to get them jobs I need to know




what's out there.*




—Max Lizarrago,




Prof. Industrial Design & Eng., Mt. San Antonio College
*LA Daily News, "National Manufacturing Day Sparks Students' Curiosity" written by Muhammed El Hasan, Oct 5-6, 2013 issue
---
CMTC's 2017 Manufacturing Day Recap


Manufacturing Day 2017, which occurred on October 6th (and throughout the entire month), was a huge success! Our Recap below features highlights from just a few of the events that CMTC actively participated in by sponsoring, organizing, matching up manufacturers with schools wishing to participate, or by lending our support by exhibiting or attending. We are proud that so mamy of the manufacturers featured in our Recap are CMTC clients and/or participants in our Made in CA program.
---
Manufacturing Day 2016


Survey Results
In December 2016, The National Association of Manufacturers' (NAM) Manufacturing Institute and Deloitte released the results of a survey on the effect Manufacturing Day 2016 had on the public's views of the industry. Responses from students, educators and employees surveyed demonstrated that Manufacturing Day 2016 resulted in an improved public perception of manufacturing. Plus, 89% of the manufacturers that participated in Manufacturing Day saw value in participating and 86% said that they were likely to host an event again in the future!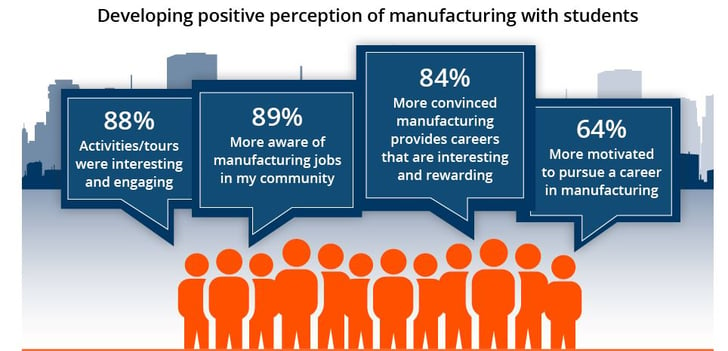 Click here to view the full infographic with survey results.