FHE Manufacturing Technology & Markets
The NextFlex mission is to advance U.S. manufacturing of Flexible Hybrid Electronics (FHE). NextFlex delivers on this mission through public-private partnerships that facilitate technology innovation and commercialization, accelerate manufacturing workforce development, and promote a sustainable ecosystem for advanced manufacturing. By adding electronics to new and unique materials that are part of our everyday lives, combined with the power of thin silicon ICs, to create conformable and stretchable smart products, FHE is ushering in an era of "electronics on everything" and advancing the efficiency of our world.
Taking advantage of the ability to conform to organic shapes, electronic capability can now be incorporated into new and emerging consumer and industrial products, and, combined with rapid advancements in data analytics and artificial intelligence, can enable real-time decision. FHE and printed electronics can also realize the promise of manufacturing electronics in higher volume at lower costs.
The term "hybrid" refers to designs that have both printed and semiconductor based components, allowing the device to process data and utilize the most cost effective componentry. The diagram below illustrates this concept where some devices are printed onto the flexible substrate, and some are placed.

Although many advancements have been made in FHE, new materials, processing, equipment, and design are needed to bring today's product concepts to reality. Interestingly, many of these advancements span across previously unrelated industry segments. For example, electronic printing inks bring together techniques from traditional paper printing, chemical formulations from the paint industry, and micro- and even nano-scale lithography from IC manufacturing. At NextFlex, we help our members optimize these techniques through technology roadmapping activities and on our pilot line where manufacturing and electronics assembly processes can be tested and proven.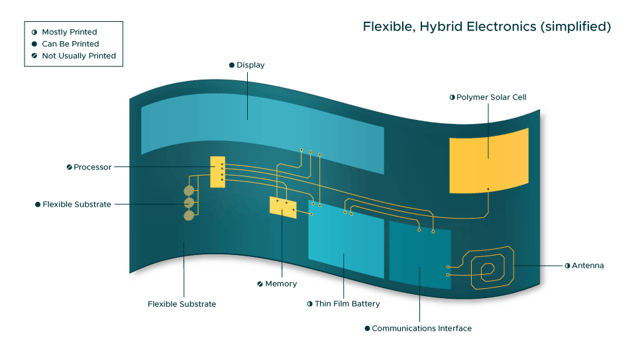 FHE Markets
Flexible, hybrid and printed electronics are now being designed into a wide range of products entering the market today, in both consumer and industrial segments. These products include human health and performance monitoring systems, structural health monitoring (roads, bridges, buildings, etc.) soft robotics, and array antennas, just to name a few.