W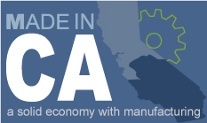 hen people think of California we may be influenced by pop culture and advertisements that portray California as an entertainment hub. This is mainly due to the highly publicized entertainment industry.
We often forget that the manufacturing industry has a sizable impact on California's culture and prosperity. California has more manufacturers than any other state and contributes significantly to the State's GDP.
CMTC recognizes the importance that manufacturing has on economic growth and development in California, and offers a variety of resources and services for manufacturers.
Manufacturing may seem like a dry or basic industry in comparison to its colorful and glamorous entertainment counterparts, but you might be surprised by what California's manufacturing industry offers and provides.
10 Surprising California Products
Here you can find a list of manufacturers who make products in California that are part of our Made in CA Program. Here's just a sample of some surprising products that California manufacturers are known for producing:
Tortilla Chips: CB Gourmet Foods, originally Cabo Foods, Inc., manufactured their chips directly across from the Corona brewery in Mexico before moving to Southern California. Their tortilla chips are perfected with proportionate amounts of lime juice and soy sauce, among other natural and organic ingredients. Cabo Foods, Inc. engages in unique environmental initiatives such as converting cooking oil into biodiesel and using recycled cardboard for shipping cartons. Not only does Cabo Foods, Inc. make healthy tortilla chips and partake in environmental initiatives, but they also take an active role in social responsibility by donating and participating in events such as: Project Rwanda, Surfrider Chapters, and Miracles for Kids.
Cookies: Traditional Baking, Inc. manufactures over 40 types of cookies, including seasonal favorites. They produce products for food industry leaders and offer packaged goods for wholesale, bulk and food service programs, as well as retail and in-store bakeries. The company also maintains an SQF (Safe Quality Food) certification, which sets the standard for food quality and safely producing baked goods.
Breads and Fruit Bars: Dudley's Bakery, Inc. is a 50 plus year old bakery that produces over 26 different types of breads and fruit bars; making about 1200- 7000 loaves of bread a day, plus the various pastries and fruit bars.
Guitar, Bass, Amp, and Audio Gear: Carvin was established in 1946 and first provided musicians custom pickups and other accessories; later, they branched out into building guitars, basses, amps, and audio gear. The company also sells rebadged guitars and distributes catalogs, email newsletters and advertisements in major music publications. Their manufacturing process starts with electronics assembly, the final assembly of electronics, wood shaping and painting.
Products for Acoustic Stringed Instruments: Lace Music Products started in the Lace family garage and has grown to be a respected company in the music industry creating innovative products for guitar, bass and many acoustic stringed instruments. Their manufacturing process consists of electronic assembly, coil winding research and development. Lace Music Products also offer patented designs for guitar pickups which free the user from having to use active systems and batteries.
Metal Working Industry Products: ChemArrow Corporation is a source of specialty products for the metal working industry, and provides customers with industrial lubricants, metal working fluids, HVAC products, cleaners, and other specialty products. Depending on the material, they use a batch blending process.
Food Carts, Grills, and Sinks: Market Night Manufacturing manufactures stainless steel tow or push type vending carts, grills and custom built portable sinks. Some of the vending carts manufactured are for food products such as: hot dog, kettle corn, snow cone, cotton candy, churro's, shaved ice, almond glazing, salsa, soda and combination carts. They also make custom remodels of any vending product, designing and building orders to fulfill what their customer wants or needs.
Tape, Labels, and Decals: Tape and Label Converters have been around since 1977 and create products for aerospace, food, beverage, produce, advertising, industrial, military and many more industries. They utilize digital and flexographic printing options to serve customers, which make rapid response and turn around possible, while producing large volumes at reduced costs.
Book Publishing: UBuildABook creates custom covers and offers full color printing. Customers design the book (such as yearbooks, art portfolios, and children's books) and UBuildABook prints it in hard cover, soft cover, custom sizes, and hard cover coil. All final products are bound by hand. UBuildABook also offers tours of their business and production areas.

Flame Retardants: West Coast Fire Shield began in Texas as a manufacturer of flame retardant products. They later moved to California, where they continue to manufacture flame retardant products using a process consisting of chemical compounding and liquid processing.
The Takeaway
While California is a great state for entertainment, TV and movie productions, it's also a state where the creative and innovative manufacturers have an opportunity to thrive. As you can see, there are an abundance of unique and surprising products made in California, other than film, that contribute to more than just our entertainment desires.