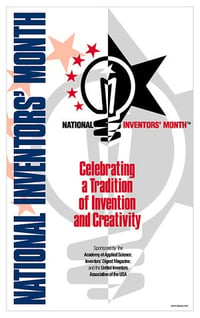 The United Inventors Association of the USA, the Academy of Applied Science and Inventor's Digest magazine declared the month of May to be National Inventors month in 1998 giving recognition to our nation's creative innovators.
California has always been known for its strength and depth in innovation-based industry clusters. Annually, California's regions rank high within one or more industry clusters, including biotech, advanced manufacturing, food processing, and information technology.
This month, we want to celebrate four of California's past inventors, or innovators, who have changed manufacturing with their historical, creative inventions.
1. Luis Alvarez
You may recognize Luis Alvarez as the winner of the Physics Nobel Prize in 1968 or for co-inventing the hydrogen bubble chamber, but he was also the inventor who has been credited with the following inventions, including:
The microwave beacon

The linear radar antennae

Ground-controlled radar landing approaches for aircraft

Radio distance and direction indicator

Landing system for aircraft

Radar system for locating planes
2. Robert Bower
Robert Bower developed twenty-four patents in his lifetime. In 1969, he patented a device for semiconductors to have the speed they required within modern microelectronic applications in Malibu, CA. This device was patented as the "Self-Aligned Gate MOSFET."
3. Richard Spikes
In the 1930's, Richard Spikes created several different inventions that have helped the everyday person, including:
The automatic car washer

The beer keg tap

The automatic gear shift

The automatic safety brake
While he was developing the safety brake, he began losing his vision and became completely blind by the time it was completed.
4. Norm Larsen
Norm was one of three who founded the Rocket Chemical Company of San Diego. Norm was part of the team of inventors who created WD-40. They were crafting various solvents and degreasers that would prevent rust or corrosion for those in the aerospace industry. Today, you can find it in many households.
California has always been known as the "innovative" state and continues that legacy today. For more information on National Inventor's Month, the National Institutes of Standards and Technology (NIST) has a great blog entitled, "You Can Make It If You Try".