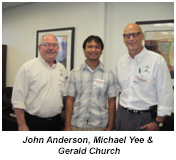 By Gerald Church, Manager, Energy and Environmental Services
LISI AEROSPACE is a leading manufacturer of aerospace fasteners supporting some of the greatest aircraft in the world. Their location in Torrance, CA conducted their first "Energy Treasure Hunt" as part of the Continuous Energy Improvement (CEI) Program sponsored by Southern California Edison, Southern California Gas Company, and CMTC.
The event consisted of 5 working teams of 5-6 team members to scout out possible energy savings in five of their key factory areas which were identified as the following: The Nuts Factory, Pins Factory, Collars Factory, Process area and Admin area. Each team had an hour and a half to identify areas in each of their respective locations where LISI AEROSPACE could save and/or improve on energy costs.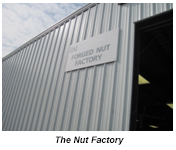 Results:
Develop equipment maintenance program for motors, belts and general maintenance
Turn off machines and lights in areas during "non-use"
Improve AC maintenance and reduce air leaks
Turn off fans when not in use
Air compressor maintenance
Install light motion detectors in offices and restrooms
Create zones for lighting fixtures to eliminate electrical use in "non-use" areas
Reduce manufacturing scrap and rework
Identify and eliminate manufacturing bottlenecks
Measure energy intensity of product output
Over 120 improvemen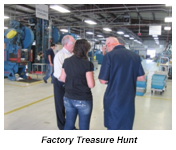 ts were identified for potential energy savings. In the next phase, an "Energy Awareness Program" will be rolled out to train end users in implementation strategies. Here are a few that all manufacturers can check out in their own facility: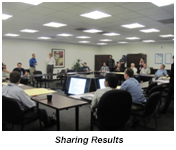 Three rewards were given to the teams who identified the following:
Most energy efficient savings measures
Most innovative solution
Greatest savings overall
What is Continuous Energy Improvement (CEI)
CEI is a management system based on strategic energy planning, management commitment, behavioral change and continuous improvement. CEI helps companies permanently embed energy management into their strategic initiatives, people, manufacturing systems, and long-term energy efficiency improvement. CEI is for companies that want to be leaders in sustainability and energy management.
Contact John Anderson at janderson@cmtc.com for more information about your energy improvements