Written by: Carrie Pittman
A friend of mine who is an artisan in Venice, California manufactures hand blown glass decanters and vases for retail stores nationwide. He just moved to a new facility and upgraded the electricity. Still, the electric oven for heating glass would not maintain power consistently. After three months of wasted time and energy, it was discovered that the oven's electrical cable was corroded. It turned out to be a simple, inexpensive fix that not only saved energy, but saved him thousands of dollars in a month's time.
But in order to save, you need to know where the money is being spent. An energy and recycling audit can help you identify cost effective ways to reduce energy usage and increase recycling.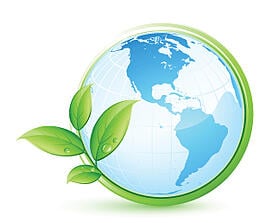 Improve Equipment Efficiency: Make smart decisions on how you use, schedule and maintain your facility's equipment to improve manufacturing productivity and reduce waste
Increase Facility's Energy Efficiency: Realize significant cost and energy savings by replacing or improving the control of your facility's heating, air conditioning, compressed air and lighting systems
Develop Sustained GHG (Greenhouse Gas) Emissions: Know and understand your carbon footprint. This will allow your company to establish emission goals, improve energy efficiencies to meet future federal, state and competitive requirements along with consumer preferences.
Product Design: Reduce life-cycle product cost and increase the ability to recycle products and materials.
Manufacturers also have an environmental challenge. Between rising energy costs and strict local, state and federal regulations, manufacturers are being asked to use more eco-friendly practices - all at a presumed high price. A common misconception is that meeting environmental requirements means sacrificing productivity and profitability. While environmentally sound practices are important to everyone, adhering to them doesn't have to burden your company by calling on already limited resources without profitable benefits. An effective environmental process can actually translate into financial gains:
Reduction in operating costs

Improved employee productivity and morale

More efficient use of resources

Safer working environment

Enhanced competitiveness

Increased sales

Improved image and brand identity
The Southern California Energy Summit in Palm Springs on October 4 & 5, 2012 will feature two full days of educational sessions, panel discussions and an exhibit hall of cutting edge energy efficient and sustainable technologies. Since California is the leading industrial state, ranking first for nearly every general manufacturing category, we can also lead the movement to "go green" and increase profitable growth to boot.