Written by: Ellen McKewen
If so, you may qualify to participate in Made in CA, a free program to showcase the products made in Southern California to the public while providing an internet based forum for manufacturers to connect and discuss industry issues. Over 200 California manufacturers (and growing) participate in the program, including Huntington Beach's California Faucets.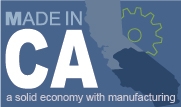 "Our customers understandably care about whether vendors are doing their best to keep jobs right here in America. CMTC's "Made in CA" program enables us to show customers that we are indeed committed to manufacturing and keeping jobs in California. "We are extremely proud of the "Made in CA" designation," stated Noah Taft, Senior VP Marketing & Sales at California Faucets.
Made in CA Program Benefits for California Manufacturers:
No cost to list your company
Special invites to premier events that CMTC sponsors or hosts
Free exposure to visitors to the CMTC site to view your company information
Free company profile page to increase awareness of your products, services and your company news
Generate potential business for the manufacturer due to higher visibility
Complimentary company listing in the National Innovation Marketplace (NIM) to receive alerts on national business opportunities
Visibility to entrepreneurs seeking a manufacturer to produce their new product
Develop synergies with other manufacturers to increase sales
Support the manufacturing industry in California by participating