Written by: Emily Carter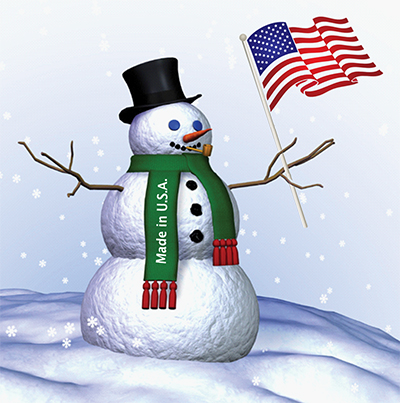 During the holiday season, American consumer spending is much higher than the rest of the year. With gift-driven holidays such as Christmas and Hanukkah, many Americans spend their holiday season searching for the perfect gifts for loved ones. In 2012, shoppers around the United States say that they are planning to spend an average of $854 for gifts.
While many products are made overseas, there are just as many options to purchase products that are made in the U.S. As our economy recovers, US manufacturing is leading the way. In order to see this recovery continue, consumers must also play a part in the triumph of our manufacturing sector. A consumer-led commitment to buying products that are made in America supports the companies in our homeland.
Buying American made products can positively impact our economy in a number of ways. First and foremost, buying American supports manufacturing jobs and employment. For example, research shows that every new job in automotive manufacturing supports nine other jobs. More manufacturing employment reduces the unemployment rate and expands the tax base to pay for benefits like Medicare and Social Security.
Additionally, purchasing more products that are made in the U.S. will balance out our trade deficit. As of 2012, we are still importing more goods than we are exporting. Balancing the trade deficit and increasing our exports will spur more economic growth.
Furthermore, purchasing more products in our own country will reduce our reliance on other manufacturing powerhouses like China. Buying locally also decreases lead times and shipping costs. Why buy something from China when your next door neighbor is producing a comparable product?
As a consumer, you most likely put your money into areas of investment; spending money on America is an investment. This year, pay attention to the labels on the products you buy. Your investment in this country ensures that manufacturing will succeed and prosper. A conscious effort to buy American can help the manufacturers in our nation thrive and succeed.
This December, there's no need to search low and far for the perfect gift. No matter who you are buying for, there are several Made in CA manufacturers that produce items here in the Golden State. So contact your fellow manufacturers for that perfect gift! Here are just a few ideas for the friends and family on your shopping list:
- For the Musician: Carvin
- For the Diving Enthusiast: Diving Unlimited International
- For the Wine Lover: St. Supery Vineyards
- For the Comfort-Seeker: Matteo
- For the Sailor: Duffy Electric Boat Company
- For the Home Decorator: Old California Lantern Company
- For the Active Person: Victory Kore Dry
- For the Kids: Kai Bean Kids & Flap Happy
- For the Pet: Ruff Ruff and Meow
- For the Gourmet Snacker: Golden Island Jerky
For more gift ideas, visit the Made in California directory listing!