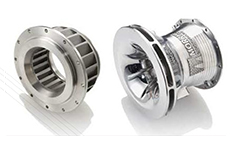 If you read manufacturing publications, you may have come across an article about additive manufacturing. This topic is becoming more prevalent and many industry experts believe that additive manufacturing will become an important part of the American manufacturing economy.
So what is it? Additive manufacturing (which is sometimes referred to as 3D printing) is the process of making three dimensional, solid objects from a digital model. A technical process, additive manufacturing allows designers to take multiple materials and build parts as a single unit from the inside out. Because materials are built layer by layer, the product is able to be built with high precision which helps manufacturers save on costs by reducing material waste.
Although reducing production costs is a great benefit for U.S. manufacturers, this process will help the field in another important way: additive manufacturing will allow us to build complex, "multi-material" components. This can spark new innovative parts, products and processes for our nation's manufacturers.
Advancements in the field will lead us to create more high-tech manufacturing jobs for our economy and will inspire businesses to come back to the U.S. This has made pursuing additive manufacturing a top priority for our country. In fact, a $30 million grant was used to establish the National Additive Manufacturing Institute (NAMII) in Youngstown, Ohio last year. With continuing developments, the process could help affirm America as the high-tech manufacturing hub of the world for years to come.
If you are a Southern California manufacturer interested in this topic, there is an upcoming Additive Manufacturing Forum. The event will be held on March 20, 2013 from 7:30am – 5:00pm at Lawrence Livermore Laboratory in Livermore, CA. Here are some of the benefits of the event:
Increase your potential for growth

Improve productivity with faster "speed-to-market" products

Increase your local, national and global competitiveness

Educational and informative – up close and personal product display
While many professionals are encouraged to attend, the forum is mainly geared towards:
CEOs

Start-ups and entrepreneurs

Design engineers

CNC programmers

Product development managers
Additionally, attendees can come to the event the night before to meet the vendors who will be showcasing equipment and products.
CMTC believes in the importance of additive manufacturing and is offering a $100 travel credit to defer travel expenses (one per company) to the first 25 Southern California manufacturers to confirm and attend the event. Contact Carrie Pittman at cpittman@cmtc.com for more details.
Don't miss out on this great event! Click here to register! (Deadline is March 15th)