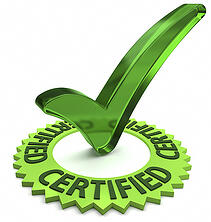 Most California manufacturers are looking for new ways to obtain new customers and boost sales. A key way to do this is to improve your branding image... prove that your company is reliable and manufacturers goods in a safe and efficient manner.
Manufacturers can improve their audiences' perception of them through obtaining certifications. Organizations that can meet strict standards by achieving recognized and respected certifications like ISO and OSHA send a powerful message to consumers: we produce quality products with safe practices.
Especially if you're a small or mid-sized California manufacturer, obtaining certifications is critical to increasing sales. By meeting stringent manufacturing quality standards, you can level the playing field with larger competitors. Here's what it all comes down to: your possible customers from around the globe are not only familiar with certifications like ISO and OSHA – they prefer to do business with manufacturers with certifications. It's all about perception, perception, perception!

Example: ISO Matters
Simply put, ISO certifications demonstrate that a manufacturer is in compliance with standards that relate to quality management systems. Beyond the manufacturing quality standards, ISO certifications provide a guide for improving quality, a company's culture and bottom-line results. Benefits of certifications include:
Ability to appeal to new markets

Increased sales

Improvements in processes and procedures

Increased productivity

Waste reduction and elimination

Employee training and buy-in to ensure sustainability
Important Steps


Achieving manufacturing quality standards is a critical, but detailed process that involves a lot of documentation. Be prepared to organize and document a lot of information about your process. This may initially sound like a daunting route to go, but again, it's important and helps you in the long-term. Here are the four main steps:
1) Documentation: During most certification processes, a manufacturer is expected to prepare documents such as quality manuals and complete highly detailed certification forms. The documentation needs to be prepared in a strict format according the governing organization's guidelines.

2) Workforce Training: Requirements will vary depending on the roles of individuals working within the organization. Program's are focused on following the standards and provide guidance on new procedures as a result of the documentation process.
3) Implementation: It's practice time! Training and documentation will lead to changes with company's processes, and governing organizations for manufacturing quality standards will need to see them in action. This will typically happen a few months before a certification audit begins, depending on the certification.


4) Audit: Different factors such as particular certification and the size of a manufacturer's facility will impact the length and number of auditors for the inspection. An auditor(s) will review all the documents, interview employees on all levels of the organization and then offer feedback for changes and improvements. For example, ISO auditors report on problems called "non conformances" which can lead to a denial of certification (or outline what should be corrected in order to get approval).
Don't Wait!
Manufacturers can obtain numerous certifications including:
ISO 9001 General

AS 9100 Aerospace

ISO/TS16949

ISO 13485 Medical Devices

ISO 14001 Environmental Management

ISO 22000 Food Safety

ISO 17025 Test & Calibration Laboratories

OHSAS 18001 Occupational Health and Safety (OH&S) Management System
If you would like to read some real case studies of CA manufacturers achieving results through certifications, we recommend that you review some of the following case studies about Southern California manufacturers:
Don't miss out on this critical opportunity to increase sales! For more information, please contact us at 310.263.3060 or click here.