Written by: Elizabeth Glynn, Export Advisor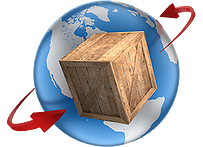 San Fernando Valley manufacturer, LOUROE ELECTRONICS® achieved a noteworthy milestone, the Export Achievement Award for significant export sales growth. Congratulations Richard Brent and the Louroe team.
The U.S. is a fiercely competitive market. It takes tremendous competitive advantage and considerable resources to stay ahead in today's domestic marketplace. While it's a good market, it's worthwhile toconsider expanding across global markets as the demand for U.S. products is positive, and the competition can be less daunting. In fact 95% of the world's market exists beyond the United States.
As well, the Made in USA label and U.S. quality are highly regarded throughout much the world. And, more often than not, the Made in California label garners even more interest. Why not capitalize on the popularity of products manufactured in California?
Take the case of Louroe Electronics, the leading U.S. manufacturer of audio monitoring systems, microphones and base stations. A long standingbusiness in the San Fernando Valley, Louroe recently has been lifted to another level of performance. CEO Richard Brent noted that Louroe's association "… with CMTC® and its program of teaching an innovative technology development methodology has propelled Louroe to faster time to market with new products that exceed the customers' expectations." Brent also knows firsthand about achieving accelerated sales growth in overseas markets. Already exporting to 22 countries, Louroe took advantage of CMTC's ExporTech program.

In a series of three (3) one-day sessions over 12 weeks, Brent shares that through the process he developed a strategic plan to increase sales through exporting. The results have been stellar. Brent shared that "… [CMTC's] Export assistance program gave Louroe the package of information and training that allowed us to develop a sure-footed international trade strategy for export. We are poised and focused for growth, where we are convinced that new jobs and stability in financial performance will flourish."
And, Louroe Electronics has flourished. Now focused on targeted overseas markets, sales have increased substantially. Since completing ExporTech, Louroe sales have increased 46%. Export sales account for nearly 25% of total sales. Brent believes so strongly in the value that ExporTech provided in positioning Louroe for accelerated export growth, he forwarded letters to other CEOs in the San Fernando Valley to encourage them to participate in the program. His hope is that San Fernando Valleymanufacturers will prosper by seizing global market opportunities.