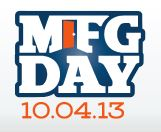 Manufacturing Day was celebrated nationwide on Friday, October 4th by over 800 organizations. It was quite exciting to see the enthusiastic involvement from manufacturers, economic development agencies; community colleges, local high schools, etc. participate in this special day. In California, there were over 60 organizations that held events from San Francisco to San Diego.
Manufacturing Day was designed to expand the knowledge about and improve the general public perception of manufacturing careers and manufacturing's value to the U.S. economy. Manufacturing Day is for students, parents, educators, media, customers, suppliers and the community at large. Visitors to the organizations that sponsored Open Houses learned about real career opportunities, training and resources.
We would like to acknowledge the following organizations that participated in Manufacturing Day on October 4th and thank them for their time and effort in this event! Their contribution to the local economy and their involvement with California manufacturing is to be commended. The examples below are representative of the wide variety and types of manufacturers located in the Southern California region.
Participating Organizations:
Ace Clearwater Enterprises, Compton
AR Industries, Fontana
CA Bontana International, San Diego
Caltec International LLC. Torrance
Cerritos College – Technology Division, Norwalk
Cummings Resource - Riverside Production Center, Riverside
D&K Engineering, San Diego
Deco Lighting, Commerce
Dinsmore & Associates, Inc., Costa Mesa
Federal Heath - Oceanside, Oceanside
Haas Automation, Oxnard
Philatron Wire and Cable, Santa Fe Springs
Planet Plexi, Mission Viejo
Quality Controlled Manufacturing Inc., Santee
Riverside County Manufacturers and Exporters - South West Cluster, Murietta
Rough Draft Brewing Company, San Diego
San Diego City College, San Diego
Sandvik Coromant, Cypress
SME Chapter 233, Long Beach
Taylor Guitars, El Cajon
Tijuana Economic Development Corp, San Diego
Tower Paddle Boards, San Diego
News Stories Highlighting Manufacturing Day:
http://www.utsandiego.com/news/2013/oct/04/manufacturing-jobs-economy-employment-mfgday/
http://www.kpbs.org/news/2013/oct/04/taylor-guitars-still-strumming-along-example-san-d//
http://photos.dailybreeze.com/2013/10/national-manufacturing-day-at-ace-clearwater-enterprises/#4
http://www.sandiegobusiness.org/blog/san-diego/mfg-day-%E2%80%98we%E2%80%99ll-be-happy-we-did-10-years%E2%80%99
http://www.ocregister.com/articles/manufacturing-528983-business-company.html
Ace Clearwater Enterprises: