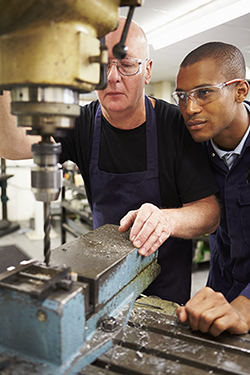 National Manufacturing Day was established in 2012 to expand the knowledge about and improve the public's view of manufacturing careers and the industry's value to the U.S. economy. The celebration looks to raise awareness about manufacturing's impact and change the perception of manufacturing careers for future generations. Friday, October 3rd will make the third annual celebration – so save the date!
Why do we need this celebration? Why is National Manufacturing Day so important for CA's manufacturing community?
U.S. manufacturing growth is critical to our state's economy. According to the National Association of Manufacturers, manufacturing accounts for more than 11 percent of the state's total output and employs 9 percent of our workforce.
Manufacturing is also important to our entire country (and the globe). In fact, the U.S. manufacturing industry is actually the tenth largest economy in the world! Take a look at some of these other stats:
Manufacturing supports more than 17.4 U.S. million jobs

For every $1.00 spent in manufacturing, $1.48 is created for the U.S. economy

Nearly 12% of the nation's GDP is from manufacturing
Here's the problem – the general public doesn't realize how important manufacturing is to our economy! People are also unaware about the diverse career opportunities and well-paying jobs that manufacturing has to offer.
Only 30% of parents encourage their kids to enter manufacturing and only 17% people view manufacturing as a top career choice. However, the annual average salary of a manufacturing worker is $77k and manufacturing employees boast the highest job tenure in the private sector.
National Manufacturing Day is the perfect opportunity for us to share our stories. It's critical that business and community leaders, legislative representatives and students and educators, all understand how important manufacturing is to economic growth.
On National Manufacturing Day, CMTC encourages you to host an event such as an open tour for your local media, students / educators and community leaders. To find out more information, visit our National Manufacturing Day page.
Written by: Ellen McKewen, Marketing Manager