Small and mid-sized manufacturers (SMM) face a unique set of challenges when it comes to managing energy use. Expertise in energy-efficient operations may not exist in your organization and employees may already have a very full plate helping the company run smoothly. Managing energy may seem like one more task on a long list of things that must be done.
However, by following some common sense guidelines, your business can improve the energy efficiency of its operations thereby increasing profit margins, securing a more competitive position in the market place and reducing its environmental impact.
As background, manufacturers rely on energy more than any other segment of the economy. As the graph below illustrates, the manufacturing sector accounts for nearly 1/3 of all U.S. energy consumption.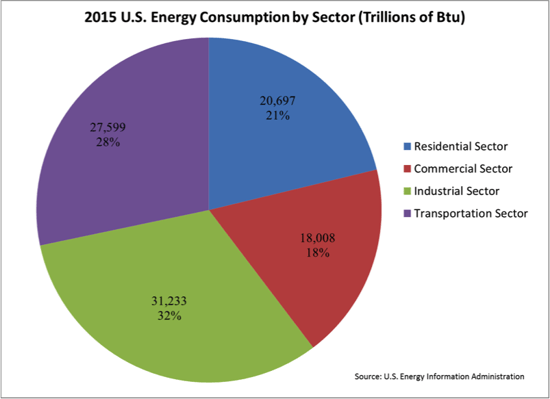 The energy used by U.S. manufacturers to make goods has been analyzed by the Department of Energy. The chart below shows that energy used for process heating and machine drive dwarfs all other direct-end uses combined.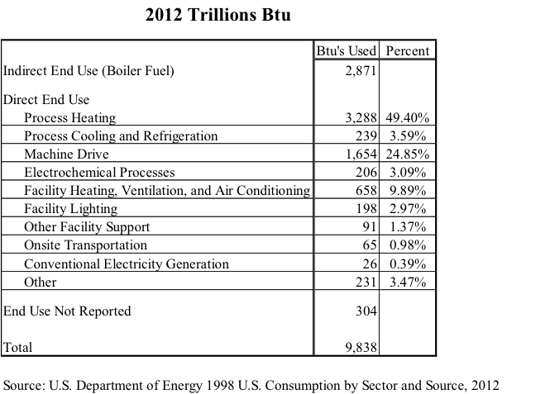 You may want to consider concentrating first on making energy-efficiency improvements in these two areas. Of nearly equal importance, however, is indirect end use (primarily boiler fuel). Other direct-end improvements (such as HVAC and lighting) should probably be combined into one all-encompassing efficiency-improvement project, in order to maximize cost-effectiveness.
Here are some best practices for improving the energy efficiency of your organization:
Increase the Efficiency of All Motors and Motor-Driven Systems
The higher a motor's efficiency, the lower its operating costs. The more motors a manufacturer upgrades, the more energy-efficient the manufacturing process will be. Regular maintenance keeps motors running efficiently and identifies problems before a breakdown.
Improve Building Lighting
Install high-efficiency lighting systems and consider using more day lighting through the use of large windows and skylights. This will not only lower your lighting costs, it will also improve lighting quality. It is often cost effective with today's technology to replace older lighting systems and save 30 percent or more on lighting expenses. More efficient lighting also produces less heat, which reduces the need for air conditioning.
Upgrade Heating, Ventilating and Cooling Systems
Higher-efficiency HVAC equipment and more effective computer control of how and when that equipment is used can substantially lower your HVAC costs. Even simple steps, such as reducing HVAC output on weekends and at night, can make a big difference in overall plant and office energy-use that can only add to a manufacturer's competitiveness.
Get Your Employees Involved
Employee behavior impacts energy use. Employees influence the amount of power required to run equipment, light spaces, etc. However, when informed about the need to save energy and how to do it, generally, employees want to help. Promoting energy awareness among employees can provide quick, positive returns.
Turn Off What is Not Needed
A common problem amongst manufacturers is that equipment remains on and running during non-production periods. This results in wasted energy and higher costs. For many, this practice can be easily adjusted.
While there are obstacles standing in the way of small and mid-sized manufacturers in implementing an energy efficiency program, overcoming these roadblocks is possible. An energy management program can offer an immediate reduction in utility bills, increase profits, decrease your plant's carbon footprint and earn your company a reputation as a good corporate neighbor.