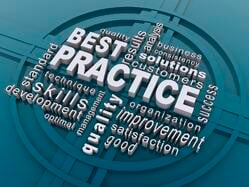 In the first post in this series, we discussed the myriad of opportunities associated with exporting your products. The second post addressed the risks associated with exporting and ways to mitigate these risks.
Part 3 - Exporting Best Practices
In this article, we will wrap up the exporting series by outlining best practices that have helped CMTC's clients and other manufacturers successfully expand their business and increase their profits through exporting. CMTC's ebook, "CMTC's Guide to Going Global" provides information to help you better understand the exporting process and opportunities. You can get that eBook by going to CMTC's website and clicking the button that says "Download eBook".
CMTC has worked with many small and medium sized manufacturers (SMMs) that have been extremely successful, and owe much of that success to exporting. One such company is Combustion Associates, a Made in California company that manufactures power generation systems. At the U.S. Africa Business Forum, President Obama recently recognized them for their achievements in export success to global markets and their economic contribution to the markets they support. They attributed their success to diligence and assistance from government exporting resources.
Another California company, Louroe Electronics, experienced a 46% increase in exporting sales after sending executives to CMTC's ExporTech program (to be explained later in this article). They also increased their gross revenues generated from exporting from 15% to 25%, and experienced a 1200% increase in exports to Mexico. You can find Louroe's success story and others on CMTC's website.
There are some common threads that run through the successful exporting efforts that can be considered best practices. Studies have proven the importance of the following practices for exporting success.
Best Practice 1: Aggressiveness/Diligence
Some exporters are "reactive". In other words, they attempt to export only in response to inquiries from international companies. According to research by Stone and Associates,the most successful exporters take an aggressive, diligent, proactive approach to exporting. They found through an internal U.S. Department of Commerce/Manufacturing Extension Partnership (USCS/MEP) survey that successful exporters were 76% more likely than moderate exporters to say they want to "aggressively" grow export sales."
Exporting requires diligence to proactively pursue target markets for exporting. Combustion Associates saw a need for their product in rural African villages and other areas where power generation was lacking and was diligent in their efforts to market to those villages.This diligence has resulted in power generation in some of the most remote and economically disadvantaged places on earth, which has improved lives and provided opportunities for the residents of these villages.
Best Practice 2: Using Readily Available Exporting Resources
Both CMTC and the government have resources that can help SMM's navigate the complexity of exporting. Here are some of the resources available to California manufacturers:
CMTC's ExporTech Corporate Management Program – This program uses a system to accelerate the exporting process for SMM's to achieve profitable growth through exporting. The program works with a small group of manufacturing executives to help them develop an international growth plan; connects them to international business experts to help them execute the Export Growth Plans; provides a group and individual coaching process to learn through networking and to provide direction for refining exporting plans; and evaluation of each company's Export Growth Plan at the end of the program by global trade professionals.
Export.gov – This website lists trade missions, provides success stories and an abundance of resources for any company considering exporting. If you are contemplating the possibilities for your product in a particular country, you can look up the market research for that particular country. If you currently export to one country and want to see what other products are exported to that country, that information is also available.
Export-Import Bank of the United States – The Export-Import Bank is the official export credit agency for United States companies. The goal of the agency, according to its website, is to "ensure that U.S. companies — large and small — have access to the financing they need to turn export opportunities into sales". Of 8,571 total exporters using the bank's services, over 5,000 of them are small businesses. The agency helps companies mitigate the financial risks mentioned in the second post in this series.
Best Practice 3: A Robust, Well-Understood Strategic Plan
Successful exporters identify their strengths, weaknesses, opportunities and threats through a robust strategic planning process. It is important to understand what your company's competitive advantage is and be able to communicate that to potential overseas buyers. Successful companies in any market have a solid value proposition; international markets are no different. In fact, given the geographic and cultural distance between buyer and seller, there is a greater need for the seller to communicate the uniqueness or strength of their products over locally sourced goods.
MEP sponsored research indicates three major examples of strategic differentiation for exporting success:
Unique, patented product

Products that are proven to perform better than the competition

Unique or special process capability and application knowledge
By using these best practices, imagine the growth your company can achieve by selling your products in global markets!
After reading this exporting blog series, aren't you convinced that exporting is a strategy that your company can use to grow sales and profitability? If so, let CMTC provide the tools and resources your company needs to accelerate your export sales growth. Global opportunities abound!! More information on upcoming events is available on our events page.
For assistance with export advice, contact Elizabeth Glynn at eglynn@cmtc.com or 310-984-0728.