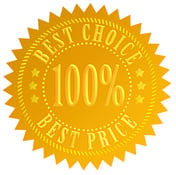 Back by popular demand! We published this blog just a little over a year ago. It has proven to be one of our most popular blogs of all time! So, we decided to update it, expand it, and republish it.

We know that if you're a small or medium-sized manufacturer, it can be a real challenge wearing all of the different hats you need to wear to run your business. No doubt, if you had the budget, you would probably hire additional people or purchase new systems or software to free up some of your time so you could focus on strategy and ways to grow your business. Well, here's the good news.

There are a wide variety of free or inexpensive online business tools and resources that you may be able to really benefit from ... and we've done the leg work for you! Just browse the alphabetical list below to see what might be of interest to you.
1. Accounting and Finance
Wave is a one-stop-shop for businesses that want to track their income and expenses. Wave's accounting, invoicing and receipt scanning software are free. If you want to use their payroll services to pay your employees, there is a $15 base fee and then additional fees based on the number of employees you have.
2. Conference/Video Calls
This is a no strings attached service which offers free national or international conference calling. Free screen sharing and free video (and recording) are also available, making it a great tool for online meetings.
3. Crowdfunding
If you're an entrepreneur running a small or medium-sized business, it can be diffcult to finance new product development. Kickstarter is an online funding platform specifically for creative projects. Just build your project page, post videos or images, launch your project and share it with your community so that backers can start pledging money to help you meet your goal. For projects successfully completed, Kickstarter applies a 5% fee to the funds collected.
4. Credit Card Reader
Square is a mobile payment processor which gives you the ability to accept credit cards and process payments from your customers anytime and anywhere you want via your smart phone or iPad. Just create an account online and they'll send you a Square magstripe reader for free (you can also order the Square contactless or EMV chip reader for a small fee). Square charges a 2.75% fee per swipe, dip or tap.
Stripe is an Internet payment processor which can be used for your ecommerce store, subscriber service for recurring payments, as a crowdfunding platform, and more. There are no setup or monthly fees; however, Stripe charges a 2.9% fee for each successful card charge.
5. Data Visualization
Want to create a great chart but you're not so good at using Excel? With Infogram, you can easily create over 35 different charts, as well as maps and infographics. And, here's the really neat thing, you can make them interactive! You can also publish them on your website. With all the research showing that people respond better to visuals versus just data and text, this is a great resource to have at your disposal. The basic version is free or you can upgrade to the pro or business versions.
6. Email/Marketing Programs
MailChimp is free for up to 2,000 subscribers and if you send no more than 12,000 emails per month. Build your email list, design beautiful and effective emails using their drag and drop templates, or develop a company newsletter – it's a great way to begin that marketing campaign you've been putting off. And, MailChimp now integrates with Facebook allowing users to create powerful Facebook ad campaigns.
MyEmma isn't free but, for a very reasonable price, you can send unlimited emails to as many as 10,000 contacts. The platform is very easy to use and offers a wide assortment of drag and drop templates. Another great thing about MyEmma is the "live" customer support which is just a phone call away. If you've ever needed help and had to wait endlessly on the other end of an online chat program, the small monthly fee for MyEmma is well worth the money.
7. Photo Editing and Graphic Design
Canva is an easy to use free online graphic design tool. With Canva you can create your company letterhead, flyers, posters, social media graphics, business cards, gift certificates, and more. Their website includes a "Design School" which has great tutorials and blogs with helpful information. Novices as well as professional designers love Canva. According to Canva's website, it only takes 23 seconds to learn how to use their online design tools!
If you need to edit or spruce up photos for your marketing materials or social media posts, and you don't have a high-end photo-editing program like Photoshop, try PicMonkey. It's free, easy and has really cool photo-editing, collage making and graphic design tools. The basic version is free but, for a low monthly fee, you might want to consider upgrading to PicMonkey Royale which gives you access to even more cool templates and design effects, and allows you to edit your work after it's been saved.
8. Project Management
Asana provides project management software that is free for up to 15 people and is extremely easy to use. Create your project, add tasks and subtasks, assign them to people on your team, manage due dates and deadlines, and track results. Asana really helps you get organized and prioritze!
Trello is another free project management software that allows you to organize projects of any size. It can be used for personal projects or used by teams to keep track of ideas, to do lists, in progress items, and completed tasks, and the notifications feature will make sure you never miss a deadline.
9. Promotional Items
Café Press isn't free but it's definitely worth mentioning. Café Press allows you to create custom products and personalized gifts using their terrific design tools and templates. You can create branded custom T-shirts for your employees to wear, giveaways to hand out at tradeshows, gifts for special customers, and more. Just pick a product, design it, and order. It's easy, quick, and even fun! Their "Shops" service also offers a way for you to sell your branded merchandise.
10. Publicity
HARO is short for Helping A Reporter Out. HARO is based on the premise that reporters need expert sources for stories and you and your company need publicity. Simply sign up for a free HARO account and HARO will match you up with reporters (from their 30,000+ database) who are looking for stories. It's a great way to get national or global publicity without hiring a public relations firm. For a monthly fee, you can create a profile to automatically insert into your pitches and choose keywords to help filter media opportunities.
PRLOG is a website where you can submit a press release and have it distributed for free to a variety of search engines and RSS feeds. Social media integration is also available. Once you've created an account and sent out your release, you can check back to view the stats and see how well your press release is doing. PRLOG partners with PRNewswire which offers wider distribution of your release for a fee.
11. Small Business Knowledge Base
BizMov offers over 300 'how-to' guides, dozens of free books, worksheets and tools on how to start and run a business successfully. Topics range from how to create a business plan, to how to improve your leadership and management skills, to developing a marketing concept, and much more.
12. Social Media
If you have several social media accounts that you post to (Facebook, Twitter, LinkedIn, Instagram, etc.), you know that it can take a lot of time logging in and out of each platform in order to send out your posts. Hootsuite is an ideal time-saving tool because the interface allows you to post to all of your social accounts from one place. You can create all of your content ahead of time, schedule the posts to go out whenever you want, and view real-time analytics for your posts. Choose from the free, pro or business plans.
13. Survey Tools
SurveyMonkey is the world's leading provider of web-based survey solutions. The program allows you to create customizable surveys quickly and easily that you can use to collect feedback from your customers, employees, vendors, or whomever you choose. The program is free if your survey has 10 questions or less and no more than 100 responses.
14. Website, Content Creation and Analytics
If you're just starting out and need to create a website or blog, or whether you've been in business a while and want a fresh new look or added functionality and ease of use, then Wix and WordPress are great resources.
With Wix, creating a website or blog is absolutely free. With the free version you get a Drag 'n Drop editor, unlimited pages, 500 MG of storage, secure hosting and a mobile site. There's no coding involved and you get round-the-clock customer service. You also have the option to upgrade to a variety of low cost premium plans.
You've probably heard of WordPress as it's been around for years and has become a leader (if not "the" leader) as a website and blogging platform. The free version offers a WordPress subdomain (companyname.wordpress.com); powerful plugins for social sharing, SEO, spam protection and more; hundreds of free themes to choose from, basic design customization, and 3GB of storage. You can also upgrade to their personal, premium or business plan for a minimal monthly cost and receive lots of extras, and access to literally thousands of beautiful (and very functional) themes!
Want to know how much traffic your website generates and get insights into how visitors find and use your site? Google Analytics provides those statistics and many more for free. It's easy to set-up an account.
The above list highlights just a few of the many, many online tools and resources that are available on the Internet. Always be sure to properly evaluate for youself any tools or resources you may be considering using to make sure that they are a good fit for your own needs.
Do you have a favorite online tool or resource that you'd like to share? Send us an email and, when we update our list the next time, we'll consider adding it. Send your information to: Marjorie Dunn at mktg@cmtc.com
Additional Resources
For additional information, don't forget to check out some of CMTC's resources. We provide regular industry information and tips through our blogs. In addition, you will find various ebooks on manufacturing topics by visiting our Services pages on the website.
---
Article written by Marjorie Dunn, Marketing Specialist and Editor of "News for Manufacturers", CMTC
Note: We have mentioned the above online tools and resources for informational purposes only. CMTC is not affiliated with, and does not endorse, individual vendors, products or services.