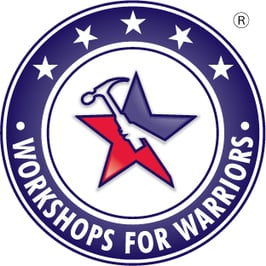 As our veterans return home and are discharged from their military service, many are thinking "Now what do I do? I am leaving a structure that provided me a purpose, a goal, and stability."
This is where an organization called Workshops for Warriors (WFW) comes into play.
Workshops for Warriors provides training in advanced manufacturing technologies to help these young men and women find a new purpose and a sustainable job to support themselves and their families.
Taking Steps to Close the Skills Gap
As President and CEO of CMTC, I can't tell you how many times I hear from manufacturers that they cannot find skilled workers. According to Deloitte and The Manufacturing Institute, there will be two million advanced manufacturing jobs that will go unfilled due to lack of skilled labor over the next year.
The answer to the workforce challenge is complex, but in San Diego WFW is contributing to part of the solution with skills training for veterans. Their 16-week, accelerated program provides veterans skills in welding, CAD/CAM programming (SolidWorks and Mastercam), CNC machining (CNC milling, CNC turning, CNC laser and CNC waterjet). These classes offer nationally recognized credentials accredited by the National Institute for Metalworking Skills (NIMS), Mastercam University, SolidWorks, and Immerse2Learn.
In addition, WFW's full complement of welding classes – 16 weeks in length - offer basic and intermediate welding classes that are accredited by the American Welding Society (AWS).
All credentials earned are stackable and portable. This means that students often return for multiple semesters in order to advance their skiills, and they can then take these credentials with them back home or all across the nation. Manufacturers now have a place to go if they are looking for skilled workers.
The Founder and CEO, Hernán Luis y Prado, started WFW in 2008. He served in the United States Navy for fifteen years as a Hospital Corpsman and then as a Surface Warfare Officer. Hernán had three combat tours of duty In Iraq and Afghanistan, and is a graduate of the Navy Surface Warfare Officer School, where he completed the Chief Engineering Officer and Combat Systems Officer curricula. He understands the military and what veterans need as they re-enter a civilian workforce.
Here's what some of the students and graduates had to say in their testimonials here about their experience with WFW.
"I already had a plan, a job lined up, two weeks before I graduated. It was a tremendous experience, one of a kind training that you can't find anywhere else in the country, probably the world. I do plan on doing this as a career for the rest of my life. I want to go back to school and maybe to become a mechanical engineer."

"The transition back in to civilian life was very stressful for me. I was coming home to an expecting wife and was trying to find a job. I really didn't know how things were going to go, but Workshops for Warriors helped me to be a little more competitive in the workforce by helping me obtain an AWS qualification."
In addition to Workshops for Warriors, Luis y Prado founded WFW Industries, LLC in 2009. This for-profit company connects a highly qualified veteran manufacturing workforce with industry needs.
WFW Industries provides exceptional expertise to the shipbuilding, manufacturing, machining and heavy equipment industries. They manufacture custom CNC parts, provide welding services, and offer preventive maintenance contracts as well as industrial equipment repair.
WFW Industries is a major source of funding for the nonprofit Workshop for Warriors training center. The center also secures funding from private and corporate donations. To generate additional Federal support, Workshop for Warriors is pursuing GI Bill funding. The application process for GI funding takes 8 years to complete, and Workshops for Warriors is currently in year 6, so they are currently unable to accept any federal or municipal funding.
Rebuilding America's Manufacturing Workforce
Their mission is simple: To increase our customers' competitive advantage with a veteran and wounded warrior workforce highly trained in digital manufacturing thread, welding/fabrication, machinery repair, and customized training.
So if you are a manufacturer looking for skilled workers, keep WFW in mind and help a veteran find a new career path in manufacturing. We owe them for their dedicated service. Hire a WFW graduate and rebuild America's advanced manufacturing workforce, one veteran at a time. Check out their site for employers to see what their veteran graduates have to offer.

Jim Watson is President & CEO of CMTC and is on the board and involved with several veterans organizations. He is responsible for crafting the future vision of CMTC, promoting the importance of the manufacturing sector to State and Federal legislators and expanding the awareness of CMTC's capabilities throughout Southern California.