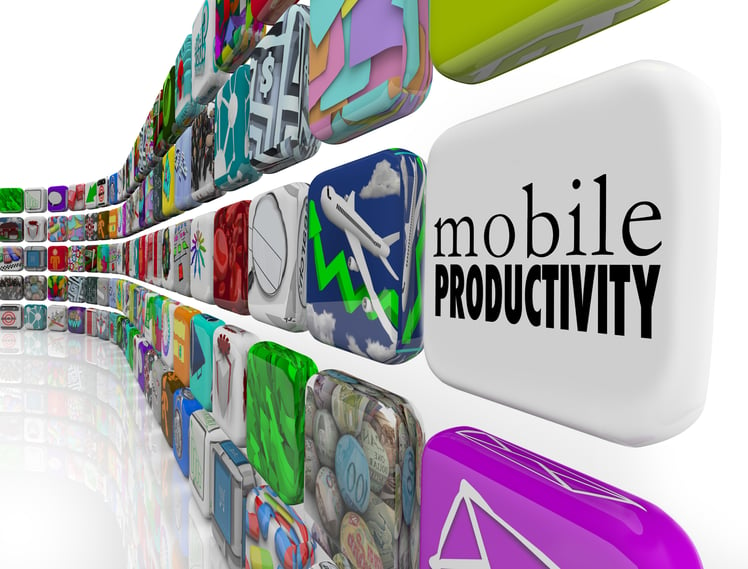 Having a substantial competitive advantage in manufacturing is a goal that's not easy to achieve, especially among thousands of aggressive rivals in the same industry. In an effort to gain traction against other manufacturers, many are turning to innovative manufacturing apps that allow them to have complete and real-time visibility not only on the shop floor, warehouses, and administrative offices but also across the supply chain.
This helps them become highly efficient, react more rapidly to market dynamics, and be ahead of the competition in a crowded marketplace.
Shop floor managers and staff often spend hours collecting information on manufacturing materials, processes, warehousing, audits, safety inspection, and more – manually and on paper, with less desirable accuracy. Today, cutting edge mobility movement technology is now impacting the manufacturing sector in ways that give mobile workers the tools to do their jobs more efficiently, anytime, from anywhere.
A significant finding of the PwC's 18th Annual Global CEO Survey showed that 86% of CEOs acknowledge that mobile and other digital technologies can create competitive advantage.
Let's explore how mobile apps create a competitive edge and affect the four most important aspects of manufacturing – inventory, machines, processes, and people.
Inventory: Manage and Track in Real-Time
Manually counting and tracking inventory is nearly impossible by today's industry demands, even with the aid of desktop computers. Technology companies have developed mobile inventory management apps to help warehouse managers conduct logistics and stock from mobile devices such as smartphones and tablets.
By using apps, managers can monitor and control the movement of goods and materials in warehouse activities such as receiving, issuing, picking, counting, and stocking of inbound and outbound inventory from one location to another. Managers can also have access to extensive statistics and analysis on fast- and slow-moving items to allow for more effective stocking.
Hundreds of mobile manufacturing apps for inventory tracking and control are available for iOS and Android devices, either as standalone systems or extensions of inventory management software. These inventory manufacturing apps list items, classify them into categories, and link them with storage locations. Most of them are available to small and medium businesses on Mac, iPhone, and iPad. Some examples are: Inventory Tracker, Stock Control, On Shelf, and JumpStock.
Machines: Maintain and Repair Equipment
It's important that technicians are alerted immediately when a unit of machinery fails because lengthy downtimes can impact the manufacturing facility's bottom line. Mobile apps that connect with the Internet of Things (IoT) provide sensors that enable technicians and engineers to monitor machinery and equipment status and identify units that need preventive maintenance, servicing, repair, or even replacement.
Equipment maintenance now comes easy with advanced software using virtually any mobile device. Some of the apps are: IBM Maximo, Hippo CMMS, MPulse, Fiix, and FTMaintenance.
Processes: Monitor and Manage Operations
With advanced manufacturing apps, running production from a remote location is now possible by simply entering the needed data into your mobile device and beaming it to your IoT-enabled manufacturing equipment. For metal works, Fabrication and Inspection: Plate Materials Mobile App and Reinforcing Steel Checklist Mobile app are helpful tools that provide inspectors with a checklist of materials and processes before, during, and after a project. For food safety, the Food Safety Fact Sheet Mobile App and Guidelines for Food Storage Warehouses: General Housekeeping and Waste Disposal Mobile App are designed to facilitate routine housekeeping tasks in food storage.
People: Enhance Employee Efficiency and Productivity
Modern day employees (such as Millennials) are comfortable working in a Bring Your Own Device (BYOD) environment. Their ability to work in agile and flexible systems makes daily operations and decision-making easier than ever due to this remote corporate data access. Internal communication and collaboration are important to them to simplify, facilitate, and speed up their tasks.
Project management apps and mobile conferencing apps are two tracking tools that help boost employee engagement. Workboard is a collaborative app that helps shop floor managers track delegated work, get status reports in real time, and follow up on action items that need immediate attention. The Pinpong App is a great feedback mechanism that encourages questions from employees to make sure that they understand what they need to do.
The Power of Mobile Apps
Finally, mobile manufacturing apps enable managers and other decision makers to identify and resolve issues more quickly, watch out for trends that affect their businesses, and make data-driven predictions and strategies to achieve a competitive advantage in their industry. They're a powerful modern-day tool to get the job done better, and faster, with less manual work.