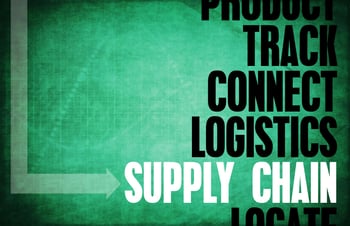 Organizations that succeed in optimizing supply chain efficiency have one thing in common, they secure executive champions. Executive champions are executive sponsors that understand the priority and impact of your supply chain strategy. Below are some best practices to share with your boss.

While organizations can implement strategies and tools for a more efficient manufacturing process, there are other ways of maximizing or optimizing the efficiency of a supply chain management system.

Traditional supply chain management begins with a solidified definition of a company's supply chain strategy and is reflective of their corporate strategy.

The typical formula for a supply chain process creates and carries a product from development, source, manufacturing and to distribution.
Phases of Optimized Supply Chain Management
Optimizing a supply chain system resembles lean manufacturing, and includes continual re-evaluation and use of specific tools; tools such as a TCO calculator or using a Manufacturing Extension Partnership (MEP) center such as CMTC, which help businesses reach maximum efficiency.
Phase 1
High performance supply chains result from organizations that facilitate collaboration on multiple tiers. The first step in supply chain optimization is developing a strategy for creating attainable outcomes. A strategy's outcomes should consist of:
Ensuring that an Executive Sponsor champions your Supply Chain Strategy and maintains consistency with the company's overall visions and strategies; this is an authoritative requirement for change to take place.
Evaluation of the current supply chain's maturity
Application of constraint theory concepts
Identifiable supply chain challenges
Creation of a strategic supply chain deployment plan
Ensuring that an Executive Sponsor confirms your strategic Supply Chain deployment plan
Phase 2
The next step in optimizing a supply chain management system is strategizing the implementation and desired outcomes, also known as implementation planning, which ideally includes:
Development of a supply chain risk management plan
Implementation of a total cost of ownership (TCO) methodology
Alignment of suppler performance metrics with supply chain strategy
Assessment of the supply chain's visibility
Identifiable supply chain constraints
The development of a supply chain communication and collaboration plan
Phase 3
After the supply chain strategies have been developed and implemented, the third phase of supply chain management optimization is called partner engagement. This phase is primarily for the development of partner outcomes, which hold core values such as:
Sharing strategic objectives
Communicating and aligning organizational objectives with supply chain performance metrics
Identifying opportunities for collaboration
Creating a supply chain optimization plan
Phase 4
The final stage of the supply chain optimization roadmap involves determining where supply chain optimization occurs; this is when the partner strategy is implemented, with outcomes that:
Assess supplier maturity
Align lead time and capacity
Improve system visibility
Enhance collaboration
Deploy risk management practices
Implement TCO methodology
Evaluate next tier suppliers
Extend network diagram
An important key factor to remember is that, throughout these stages, there should be continual coaching, mentoring and directing for an optimized supply chain management system.
Tools for Optimization
1. The MEP Path
Using the path developed by the Manufacturing Extension Partnership (MEP) allows businesses to focus on the entire supply chain, rather than on individual suppliers. This path helps to improve the delivery speed of the supply chain system, improving collaboration, reducing risks and decreasing overall costs.
Using the MEP supply chain optimization process also allows for better positioning of the supply chain management system: developing, sourcing, manufacturing and distributing superior products at lower total costs, with increased revenue, profit and shareholder value at a faster rate than competitors.
2. Using a TCO Calculator

A total cost of ownership calculator can assist in measuring and managing supply chain costs, resulting in lower costs for each individual product the organization sells.
In a Nutshell
An organization's pursuit for maximizing the efficiency of their manufacturing process is a continuing process. Organizations have a variety of efficiency methods to accomplish this, such as lean or smart manufacturing processes.
Another method many organizations use involves optimizing current supply chain management systems, which traditionally begins with a solidified definition of supply chain strategies, and is reflective of corporate strategy.
The typical formula for an optimized supply chain process that creates and carries a product, from development, source, manufacturing and to distribution, starts with strategy development and finishes with an implemented partner strategy.