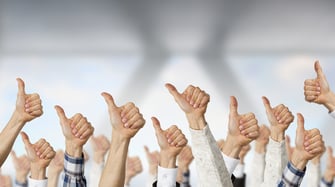 Just how important is it to evolve company culture in today's business environment? – It encompasses the top concerns corporate leaders face in retaining talent today, according to new Deloitte research. Combine economic improvements with the knowledge that most employees prefer more engagement at work than they tend to receive, and one can understand why many CEOs and HR personnel are now eager to evolve company culture.
An Open Manufacturing Culture
While culture has been a big buzzword for Silicon Valley-style offices, it's also becoming more important for manufacturers and some manufacturing plants are reaping the benefits of a more open culture. Innovation within processes may be found in any kind of work environment – and are most likely to be found from those who do the actual work. Given today's social websites like Glassdoor, finding jobs and reading feedback about corporate culture has never been easier. With greater transparency of information about employers available online, some experts urge leaders to embrace the trend by being more transparent to current and soon-to-be employees. Some believe more transparency will …
Foster trust among employees, many of whom were affected by the economic meltdown of 2008-09
Give context to what a good employee may not be aware of, such as why more resources are not available in their department, which may help employees stay on track with their goals
Enable the employer to learn about their employees, which serves to improve company culture – communication is a two-way street
Of course, enterprises that are willing to be transparent will also have to be serious about evolving company culture. When aspirations for an evolved company culture are realized, employers can save, and make more money. Here's why:
A reputation for being a great place to work not only helps companies keep talent, it also attracts talent. Rather than wasting time and money on an employee search, create an environment where talent comes to you
New talent may engage existing employees and encourage them to grow their skills, ambition and productivity
Money isn't everything for employees. Many will gladly trade a happier work environment or a flexible work schedule for a few thousand dollars in their annual salary
A reputation for being a great place to work not only helps companies keep talent, it also attracts talent. #business #mfg
How to Develop Your Company Culture
To evolve company culture, it will also help to know what that means. Hula-shirt Fridays alone won't cut it. Meaningful cultural change means having an impact on a company's functionally, down to the individual employee level. Here are a few questions to consider:
What values are being rewarded to the employees?
How does it feel around the organization? Is it loose, creative and innovative or does it seem a little too quiet and tense?
Do new employees being hired match the current culture? If not, will the differences enhance or detract from the company culture?
While sketching out a plan to evolve company culture, it's important to understand the role fun could play among employees. Stress-relieving activities with a team recharge the batteries. The point here is not so much to lure people with promises of games and candy, but rather …
To encourage collaboration among team members and establish improved cohesion
To avoid unnecessary dependence on top-down management and affirm self-reliance
To spark innovative ideas
Along with its people, a business's reputation is one of its biggest assets. When a company's work culture carries a positive reputation, it supports the company's reputation of high quality and excellent service.
For more help in improving company culture, download our HR eBook below. Hiring and retention are just two of the topics reviewed in this money-saving handbook.