The workforce skills gap is a continuing source of discussion and worry for many of California's manufacturers. It is not surprising this is the case if you consider the following recent statements and statistics: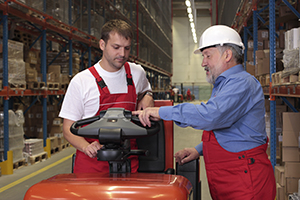 According to an article on Public Policy Institute of California's (PPIC) website, "If recent trends continue, California is likely to face a shortage of workers with some college educ ation but less than a bachelor's degree by 2025."
The Brookings Institute's website (www.brookings.edu/research) ran an article on July 4, 2014 stating, "…professional STEM vacancies take longer to fill now than before the recession, while vacancies for lower-skilled occupations remain much easier to fill. These indicators signal that STEM skills are in short supply in the labor market, relative to demand."
In the midst of all the discussion and worry, however, some companies, colleges and high schools
nationwide are collaborating on some innovative programs to address the workforce skills shortage. These programs are attacking the root causes of the shortage, specifically:
An inaccurate and negative perception of manufacturing by students, parents and elementary and high school teachers.
Lack of industrial arts training in most high schools due to funding cutbacks
The lack of engagement in learning at the high school level as compared to previous years.
Here are some shining examples of the unique and successful programs that are showcasing manufacturing and providing valuable education and work experience for students at various stages of their educational journey.
Project Lead the Way (Nationwide)
According to the website for Project Lead the Way (PLTW), "Project Lead The Way (PLTW) is the nation's leading provider of K-12 STEM programs". PLTW provides teacher development programs and curriculums and utlizes a network of educators and corporate and community partners to help schools in all 50 states incorporate STEM subjects into the classroom.
The PLTW model seems to be working. Following are some of the program outcomes listed in their website
"High school graduates who participated in PLTW were nearly three times as likely to major in STEM, and 3 to 4 times more likely to study engineering, versus non-PLTW graduates."
"PLTW participation was significantly related to persistence into the second year of college, especially for those students who had taken three or more PLTW courses."
The program has been recognized by Fortune 500 businesses, as well as numerous organizations, colleges and universities.
How you can participate! Follow this link to learn how to build a school partnership team in your area. There are even grant opportunities to help start a PLTW program at your school (details on the link as well).
Multi-Craft Core Curriculum (California)
An article published in August of 2014 on the EdSource website entitled "Pilot Program Focuses on Pre-Apprenticeships" outlines a new program started in California called the Multi-Craft Core Curriculum. The program blends academics with job training in construction fields. The curriculum, which has previously been used for adults, will be tailored for younger students at nine California high schools.
Each of the nine pilot schools will develop a Sustainable Academy for Building and Engineering (SABE). 9th through 12th grade students in this academy will combine technical instruction with courses such as the history of trade unions. Program organizers say this integration of real-world and classroom experiences centered around the construction trade will help keep more kids engaged. This is extremely important as a 2012 Gallup Poll of 500,000 students, indicate that, while 8 out of 10 elementary students qualify as "engaged" in learning, that number drops to 6 out of 10 in middle school and an alarming 4 out of 10 in high school!
How you can participate! Start talking to your community colleges and local high school about ways to incorporate NIMS (National Institute of Metalworking Skills) or other necessary training/credentials to prepare students for working in your manufacturing facility.
National Manufacturing Day (Nationwide)
Manufacturing Day 2014 (#MfgDay14) was a resounding success! In fact, President Obama recognized this grassroots event for its role in informing tomorrow's workforce about the potential careers in manufacturing.
All over the country, both small and large manufacturers opened their doors for tours and open houses to expose students, parents and educators to the "reality" of manufacturing. Since its inception in 2011, National Manufacturing Day events have included over 1,600 plant tours with more than 100,000 people attending.
You can view a recap of the California Manufacturing Day events that took place in October. 75 manufacturers and partners participated in conferences, panel discussions, and plant tours, all with the goal of changing parents, educators and students perceptions of manufacturing.
How you can participate! You don't need to wait for Manufacturing Day 2015 to schedule plant tours, job shadowing, and Career Days for students at both the grade school and high school level. Remember, by the time kids get to high school, they have already started considering their "ideal" career. Work with the middle schools to walk students through your shop, or volunteer to speak at a school Career Day (bring a video or product samples to enhance the experience, if possible).;
Toyota Advanced Manufacturing Technician Program (Communities with Toyota Plants Nationwide)
After realizing that 100 of the 350 employees at the Toyota Princeton, IN plant would be leaving the company in the next 5 years (primarily due to retirement), the facility management decided to use a tool that other Toyota sites had utilized to develop new talent to ensure a well-trained workforce for the future. The Toyota Advanced Manufacturing Technician Program pairs Toyota plants with local community and technical colleges to offer a curriculum customized to the workforce needs at the facility. The plant then offers participants training and an apprenticeship while they are attending school to provide both education and workforce experience.
The Princeton facility partnered with Vincennes University to offer a Computer Integrated Manufacturing: Robotics degree in combination with an apprenticeship program that pays as much as $30,000 per year. Students' work habits and timeliness are carefully monitored at both school and the workplace. If program participants are a minute late to work or class, the situation is addressed. If this happens repeatedly, the student is "fired" from the program, even if academic and work performance in other areas is good. Successful program graduates have the option to continue working and taking classes as needed to advance their careers, whether it be for a credential or a baccalaureate degree.
The Princeton facility has seen great results from this program, which they also open up to other area manufacturers for the classroom training portion.
How can you participate? See if there is a Toyota facility in your area, and, if so, contact the HR person if you have an interest in partnering with them to use their program to help develop future talent for your company. Or, as noted above, work with the local community college, university or technical school to customize a similar apprenticeship program to meet your current and future needs.
CMTC can help you participate in future Manufacturing Day events or connect your company with economic development and educational institutions that may be able to help you use some of the innovative programs noted above or develop your own!
We all benefit from a strong future manufacturing workforce, and we at CMTC have found that the best path to that goal involves strong collaborations and programs that encourage student engagement at all grade levels.
Let's work together to create a competitive US workforce for the coming decades!