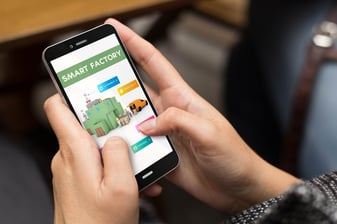 Today's IT trends and technologies are affecting the manufacturing industry in a big way. The convergence of technology and industry is instrumental to today's ever-evolving supply chain. In the paragraphs ahead, we will discuss four of today's IT trends that are paving the way to a manufacturing revolution.
Cloud Computing
The Cloud Computing industry has managed to successfully iron out many of the wrinkles encountered during its first years after mainstream adoption. Cloud providers have continued to develop and improve their platforms, enabling manufacturers access to large amounts of storage, data and analytics. Since all of this information is hosted and managed from a centralized remote location, management teams are leveraging the cloud to easily access valuable data from their operations and their partners. From supplier to retailer, the ability to quickly extract information on operations, maintenance, logistics and more creates transparency and efficiency throughout the entire value chain.
The cloud is also helping to address a major shift toward the desire for mass customization in buying behavior by both businesses and consumers. Because mass customization involves building products then personalizing them to meet the needs of the customer, often times changes at the shop floor level need to be quickly executed. By easily accessing necessary data from the cloud, manufacturers can take action to make the rapid changes needed for this growing subset of customers.
Cybersecurity
Cybersecurity risks can threaten an organization in various forms including internal threats, advanced forms of malware, and unauthorized access to systems and data by malicious hackers. These types of breaches have become an alarming concern for enterprises across all verticals after data from organizations many thought were impenetrable were compromised.
In fact, a recent BDO report finds that 92% of manufacturers cited cybersecurity as a risk factor in their 10-k filings. The BDO findings also report that manufacturing was the second most targeted industry for malicious cyber attacks in 2015. These findings justify the notion that as the Industrial Internet of Things (IIoT) and Big Data forge the next frontier of manufacturing, it is more important than ever for management and IT teams to work together and take action to minimize security risks.
Industrial Internet of Things (IIoT) & the Edge
IIoT is the driving force behind the manufacturing industry's evolution. The ability to connect machines, humans and processes creates unparalleled operational efficiency from the moment of product inception. IIoT's impact on the supply chain is so significant PwC referred to the advent of the IIoT as "A once-in-a-lifetime business disruption--one that requires new capabilities and will provide incredible opportunities."
Beneath its surface, IIoT's roots grow deeper than simple connectivity between devices. One of these major developments is the migration of IoT processing to the edge. By keeping processing at the edge, large amounts of data that would customarily be moved to the cloud from a piece of equipment are instead processed by hardware attached to the equipment itself.
There are two key advantages to this type of data processing:
Data Security
Optimized Analytics
When data is processed at the edge and cloud transfers are limited, a secure barrier is formed between devices, data and third parties. This reduces the risk of valuable intellectual property (IP) and other valuable data landing in the hands of competitors or hackers. In addition to its security benefits, edge computing improves analytics. This is achieved by increasing the frequency of data filtering, which greatly reduces the amount of information a device needs to analyze and act on. While useful for advanced small to mid-sized manufacturers, edge computing creates an enormous opportunity for larger-sized manufacturing companies.
Fast Data
As the IIoT continues to deliver more and more information, effective data processing becomes increasingly important. To keep up with these advancements, engineers and data scientists have been refining what is known as Fast Data. Fast Data focuses on optimizing data analysis to the point where problem-solving insights are generated in real-time. By implementing Fast Data, organizations can maximize the value of their IoT data to avoid and solve problems across their organization. Common use cases include:
Employing Predictive Maintenance to anticipate machine failure
Using event processing to monitor equipment efficiency
Detecting fraud through financial analysis
As IIoT and Big Data continue to expand, Fast Data will become more prevalent in the mainstream.
Many forward-thinking manufacturing companies are already taking advantage of the technologies discussed above. Their ability to capitalize on the IT and technology trends of today are setting them up for success in the long run. However, the ability to leverage advanced technology does not have to be limited to the largest manufacturers in the community. Many small to mid-sized manufacturers can experience huge benefits from investment in the specific technologies we've covered today.