Manufacturing Da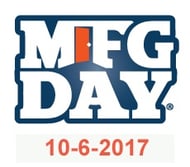 y occurs every year on the first Friday in October – this year it's Friday, October 6th. Although that may seem like a long way off, it's amazing how time can fly by and all of a sudden you find yourself scrambling trying to figure out how you want to participate. We see it happen every year with companies who contact us a month or two before the event date asking us for advice on how they can get involved. And, believe me, it happens to us too! As the statewide Manufacturing Extension Partnership (MEP) Center for California, part of CMTC's mission is to promote Manufacturing Day. But, just like you, we get busy with other pressing business and then we look at the calendar and say, "Wow, Manufacturing Day isn't that far off!" So we can definitely empathize with you on how hard it is to add one more project to your "to do" list. However, we also know how important Manufacturing Day is.
It's a National Celebration to Raise Awareness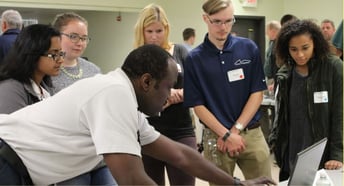 National Manufacturing Day was established in 2012 to raise awareness about manufacturing's impact on our economy, change the public's perception of manufacturing, and inspire young people to pursue careers in manufacturing.
And, it's working! In December 2016, The National Association of Manufacturers' (NAM) Manufacturing Institute and Deloitte released the results of a survey on the effect Manufacturing Day 2016 had on the public's views of the industry. Responses from students, educators and employees surveyed demonstrated that Manufacturing Day 2016 resulted in an improved public perception of manufacturing. Plus, 89% of the manufacturers that participated in Manufacturing Day saw value in participating and 86% said that they were likely to host an event again in the future! Click here to view an infographic which shows the survey results.
89 percent of manufacturers who participated in MFG Day saw value and 86 percent said they would host an event again
Different Ways to Participate
MFG DAY is an opportunity for you to open your doors and open minds. Here are some examples of the type of events you can plan:
Host a facility tour (open to the public or by invitation only)
Give a presentation (at your facility or at a local school)
Conduct a career fair
Lead a roundtable discussion (at your facility, a local school, or at a community organization)
Organize an expo with other manufacturers
Get creative! Some companies have even hosted BBQ's and Burger Cookouts!
Large or small, fancy or casual ... it doesn't matter. Choose a way to participate that you're comfortable with and that works best for you. For additional ideas and important resources to help you plan your event, check out the "Resources" page on the MFGDay.com website.

Consider Hosting a Group of Students
As part of our mission, "To serve manufacturing as a trusted advisor providing solutions that impact and grow the California economy," CMTC is working to partner high schools and middle schools in California with manufacturers in their area to provide first-hand learning experiences for students -- especially those in ROP, STEM and CTE programs. If you would like to be placed on our list of manufacturers who would like to host a group of high school or middle school students at your event, please contact CMTC's Outreach & Communications Manager, Steve Brand, directly at sbrand@cmtc.com or by phone at (310) 263-3018.
Don't Forget to Register Your Event
It only takes 15 minutes! By registering on the MFGDay.com website, your event will automatically be added to the schedule of events, giving your event national exposure – for free! CMTC will also provide a complimentary listing on our website's "Who's Participating" page of all registered Manufacturing Day events to be held in California.
Help Us Make Manufacturing Day An Even Bigger Success
Last year over 2,811 events were held throughout the United States, Mexico and Canada, with 2,683 of those events held in the United States and 180 events held right here in California (click here to view CMTC's 2016 Manufacturing Day Recap of some of those events). CMTC is determined to do all that we can to make Manufacturing Day an even bigger success than it was last year. Help us reach our 2017 goal of 225+ registered events in California! And, remember, by helping us reach our goal, you'll be helping to raise awareness about manufacturing's impact on our economy, change the public's perception of manufacturing, and inspire young people to pursue careers in manufacturing.
Stay Tuned!
Over the next few months, CMTC will be posting additional blogs, sending out informational emails, and giving you Manufacturing Day tips and important reminders in our e-Newsletter for Manufacturers.
Start Planning Now ...
Manufacturing Day will be here before you know it!


---