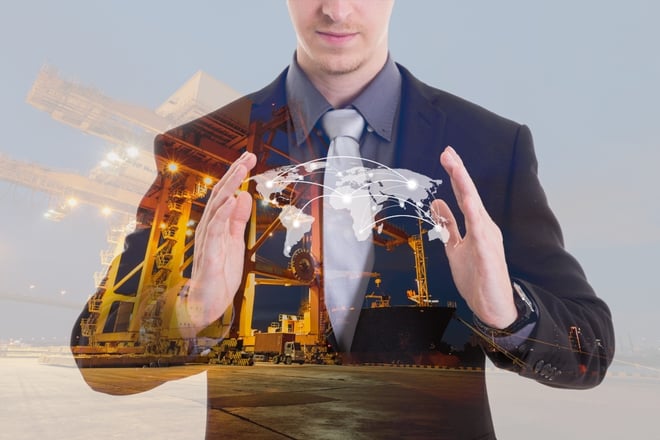 The United States is the second largest exporter in the world, with exports reaching $1.42 trillion in 2016 and California contributing $163.6 billion in that same year. With California's strategic Pacific Coast location, dynamic economy, and a throng of creative and diversified talents, exporting manufacturers could see a momentum for renewed economic growth.
Some of CMTC's California manufacturing clients now participate in the export market. One company, Micronova Manufacturing, Inc., is a woman-owned business that was established in 1984 in Torrance, California. According to the Torrance Area Chamber of Commerce, "By the mid-1990's, Micronova's global sales made up 8% of its business. Today, it has grown to 16% with plans to continue that annual double-digit growth and expand more broadly in the Pacific Rim countries of Singapore, Indonesia and Australia."
Another company, Combustion Associates, Inc., is a minority-owned business based in Corona, California, that provides power solutions to clients in the energy, process, and environmental industries. The company also decided to take the export route to increase business and has excelled. "Since 2007, CAI has continued to expand into new markets abroad, including Turkey and Europe. Exports now represent 90 percent of the company's revenue."
As the consuming world gets smaller and purchasing power increases in developing economies, an export strategy is an essential component of 21st century manufacturing. Exporting offers vast opportunities to manufacturers to expand into new markets abroad that are not available domestically — and exporting isn't just for the "big boys." Small to medium-sized enterprises (SMEs) account for 98% of U.S. exporters, according to the U.S. Department of Commerce's U.S. Trade Overview 2016 publication.
Exporting has the potential to reach the world's 7 billion prospective customers via the internet. As a result, it may create more and better-paying jobs at home, spurring a stimulus to a virtuous supply and demand cycle that is vital to a vibrant economy. Overall, exporting sparks innovation, introduces new products and processes, and increases sales.
Getting started is the first hurdle that any manufacturer — especially small and medium-sized manufacturers (SMMs) — needs to address. For the inexperienced, entering the exporting market naturally comes with some fear of the unknown. First-time exporting manufacturers can take comfort in a report by the National Association of Manufacturers (NAM) showing that 97% of exporters are small- and medium-sized businesses and that more than two-thirds have fewer than 20 employees. If you do some research, consulting and networking, you soon will discover that resources are available to help you get started with your exporting efforts.
Exporting differs from manufacturer to manufacturer, but most businesses share common exporting requirements. The basic steps to start an export business include:
Planning
Finding, assessing, screening, and choosing your markets
Finding qualified buyers in your chosen markets
Export licensing and documentation
Logistics
Pricing and payment terms
However, there are nuances in international trade that can create risks if not addressed. Manufactured goods traveling from port to port can face logistical, procedural, regulatory, and other abstract challenges at any step along the way. Manufacturers who are determined to build a successful export business may require the services of a reputable trading company.
Here are important exporting concerns that every new manufacturer should consider:
Logistical Planning from Origin to Destination
Your major consideration as exporting manufacturers is to ensure that your goods reach your customers on time. If you are a California manufacturer, you can use land transportation if you are shipping goods to a nearby country like Mexico or Canada. Air shipping and maritime shipping are the other options for other destinations. Damage, loss, theft, and wrong destinations are risks that can be caused by mismanaged logistics. Because of the complexity of moving goods from one country to another, the assistance of freight forwarders is an important aspect of logistics planning.
Compliance with Local Rules and Regulations at the Country of Destination
Additional logistical issues include customs clearances, tariffs, and other rules and regulations at the point of entry. While these rules are typically the same across borders, some countries operate according to systems that you must learn to navigate.
One of the biggest concerns of exporting manufacturers is having goods held up at customs. To avoid this, you should consider employing the services of a trade compliance and customs law consultant. This move is especially helpful when disagreements concerning exchange and interest rate fluctuations emerge, or when an importer refuses to pay. A sharp legal team may not just be an option but a necessity.
Getting Familiar with Unfamiliar Territory
This does not only mean the geographic characteristics of the destination country; rather, it's also about learning the cultural nuances and niceties, local preferences, and current trends embraced by the territory. Partnering with a local company or trusted contact like a wholesaler, distributor, agent, or sales representatives helps you to build a sales network in your target country. The U.S. government's Gold Key Matching Service can help you find and screen prospective trade partners that can market and sell your products abroad.
Leveraging Visibility through Technology
In this interconnected age, creating an overseas network is an important step for successful exporting. Visibility provides exporting manufacturers with increased transparency of the export supply chain for better event management and more informed decision-making. For example, natural disasters along the travel path or political unrest in the destination country could derail shipping processes. Through accurate visibility, exporting manufacturers can figure out which shipments are in transit and which are sitting in ports, thereby giving them real-time data to better track and manage events across the export supply chain.
As an export manufacturer, your business website is the likeliest first stop for interested overseas companies considering to buy your export products. To ensure a successful export business, you need to maintain an informative and content-rich website to keep you open for business to the world 24 hours a day, year round.