This post is the first installment (Part 1A) of six regarding the concept of Smart Manufacturing (SM). This series aims to inform manufacturers of SM's components, how it affects business performance, economics and plans, its importance in the value chain, how it changes the workforce and the future of manufacturing overall. This series is written in conjunction with the Smart Manufacturing Leadership Coalition (SMLC).
Introduction of Smart Manufacturing
Over the past several years, the topic of Smart Manufacturing has been a conversation among manufacturing experts, strategists and thought leaders. However, despite its recent coverage in the press and in journal articles, many in the front lines of manufacturing aren't quite sure what Smart Manufacturing entails, its importance or how it's even relevant to their organization. If you're sitting there wondering what Smart Manufacturing is, you're not alone.
To state it simply, it is the use of real-time data and technology when, where and in the forms that are needed by people and machines.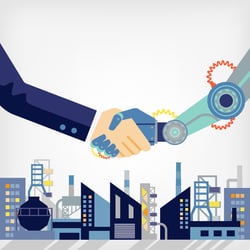 But if you are looking for more comprehensive definitions, there are two from leading organizations. According to the National Institute of Standards and Technology (NIST) Smart Manufacturing are systems that are "fully-integrated, collaborative manufacturing systems that respond in real time to meet changing demands and conditions in the factory, in the supply network, and in customer needs."
The SMLC definition states, "Smart Manufacturing is the ability to solve existing and future problems via an open infrastructure that allows solutions to be implemented at the speed of business while creating advantaged value."
Smart Manufacturing is being predicted as the next Industrial Revolution. And, as with many other advances throughout recent years, it all has to do with technology connectivity and the unprecedented access to and contextualization of data. Think of your smartphone, only on a grander scale.
There are "microprocessors" that make it possible for Smart Phones to operate like mini-computers. There's the "cloud" where almost an unlimited amount of data can be stored and retrieved.
There are "apps" that can be downloaded to help us keep track of what we spend, track the location of people and devices, track how many steps we've walked ... and the list goes on and on. SM utilizes all of the same components, addressing the complexities of security, interoperability and intellectual property for manufacturing.
Furthermore, SM integrates data and information from multiple open and vendor applications and products that can be composed to form new solutions. It can be applied to a single machine line, an entire factory or across a network of suppliers and customers. In fact, linking and integrating among and across all of these in synchronized time is possible.
These improvements make it realistic to manage manufacturing operations with more precision and better collaboration among employees, suppliers and partners. SM will create an open atmosphere where fact based decisions can be made and decision makers will have the trusted data when it's needed, where it's needed and in the most useful form. Solving problems will be based on a total picture.
What are the Benefits of Smart Manufacturing?
This merger of the physical and virtual worlds (cyber physical systems - CPS) opens up new areas of innovation that will optimize the entire manufacturing industry to create higher quality products, improve productivity, increase energy efficiency, and sustain safer plant floors.
Furthermore, smarter factories also offer the opportunity to boost employment 2-4 times over the current national manufacturing workforce of 12 million. As SM is adopted, new technology based manufacturing jobs will become available creating direct manufacturing and non- manufacturing positions.
Creating smarter factories will allow the U.S. to remain competitive with manufacturing organizations abroad. New, overseas manufacturing facilities are being constructed with Smart Manufacturing technologies built-in. In order for the U.S. to remain competitive, it needs to embrace Smart Manufacturing with people who have the desire to get in on the ground floor.
What Does SM Mean for the Manufacturer?
If you're a small manufacturing organization, what are your strategies for improving upon your processes? What do you want to accomplish – increase sales, reduce costs, improve efficiency, or have a more agile supply chain? It's likely that you've purchased hardware or software along with a license to use the technology to help you accomplish one or more of your goals.
While the intent of these products is beneficial, "the ability for a small manufacturer to leverage any type of business intelligence from legacy systems has been extraordinarily limited. These systems are generally not interoperable," explains Denise Swink.
"The business model by solution providers is generally non-scalable, non-replicable, complex and highly costly. It's becoming out of reach for many organizations and especially to small companies. Smart Manufacturing on the other hand brings small and medium manufacturers the ability to access new and growing forms of business intelligence.
SM offers tools to analyze data and test simulations that can drastically improve their performance, products and designs." It also offers the ability to collaborate with suppliers, both upstream and downstream, more effectively.
We are just beginning to tap into the many facets included in the concept of Smart Manufacturing with this initial blog. Watch for our Smart Manufacturing series to continue where we will delve into more areas such as: a more in-depth discussion about the SM Platform and the Marketplace; current use cases; the benefits in the value chain; the effects it will have on your workforce and next steps you can take to get ready for Smart Manufacturing.
Contributor to this blog post included interviews with Denise Swink, CEO of the Smart Manufacturing Leadership Coalition (SMLC).