Clothing design and manufacturing company based in Los Angeles area. Custom apparel for chain store retailers, theme parks, music & pop culture merch.
Products and Services
Men's and women's apparel - dresses, pants, tops, etc.
Manufacturing Processes
In-house graphic designers, pattern makers, and sample room. Full domestic manufacturing production team with on staff quality control.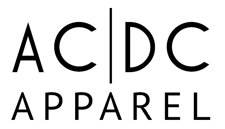 Contact This Manufacturer
Company Name: AC.DC Apparel
Category: Apparel
Location: Sierra Madre
Contact Person: Akiko Cook
Phone: 626-737-9096 x402
Email: @
Website: https://acdcapparel.com
Are you a CA Manufacturer?
Join our Made in CA program and get your company featured for free!