East Brother Beer Co. was founded by two friends, Rob and Chris, after decades of seeing the brewery take shape in their minds. They've brewed countless beers in their day and always found themselves returning, as inevitably as the tide, to classic styles executed with precision.
Products and Services
The team at East Brother Beer Co. consists of passionate people focused on tradition and brewing classic styles. Richmond, CA is home and much like our neighbors, we instill Pride + Purpose in everything we do.
Manufacturing Processes
We take pride in tradition and brewing classic styles in a matter-of-fact, true-to-form manner. Our beers are the liquid comfort food you'll come back to time after time.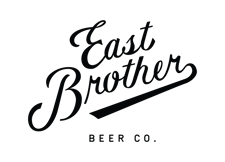 Contact this Company
Company Name: East Brother Beer Co.
Category: Brewery
Location: Richmond
Contact Person: Rob Lightner
Phone: 510-230-4081
Email: @
Website: https://www.eastbrotherbeer.com
Are you a CA Manufacturer?
Join our Made in CA program and get your company featured for free!