Ferrari Interconnect Solutions specializes in the design and manufacturing of interconnect solutions for high reliability aerospace applications to include avionics, communications, helmets, test equipment and other critical demands. FIS has been around for approximately 8 years. We are unique in that we can offer create custom communication cables within a favorable lead time.

Products and Services
AS9100
ISO9001
IPC/WHMA-A-620 CLASS 3
J-STD-001 CLASS 3
Patent Pending
Manufacturing Processes
Molding
Electrical Assembly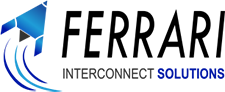 Contact This Manufacturer
Company Name: Ferrari Interconnect Solutions
Category: Computer & Electronic Products
Location: Ontario, CA
Contact Person: Karina Vera
Phone: 951-684-8034
Email: @
Website: http://ferrariinterconnect.com
Are you a CA Manufacturer?
Join our Made in CA program and get your company featured for free!