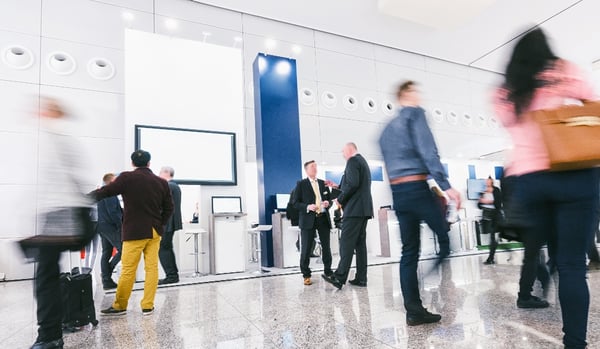 Conferences are a great way for you and your team to network with others, demo exciting new technologies, learn about topics that interest you, and gain valuable insights from industry experts. Thankfully, there's no shortage of events happening in 2020! Here are 30 conferences happening in California and throughout North America that you can attend.
9 Manufacturing Conferences in California
February 11-13, 2020: Anaheim, CA
Join 20,000 manufacturing professionals and 1,900 suppliers in Anaheim for this large-scale event! You'll meet leaders in contract design and manufacturing and gain insights during educational sessions at the "Design Dome" and the six-track conference on 3D printing, smart manufacturing, and MedTech.
February 11-13, 2020: Anaheim, CA | June 9-11, 2020: New York, NY
By 2025, an aging population and advancements in technology are poised to drive the global medical device manufacturing market to more than $600 billion. To stay on top of trends, industry leaders need to swap ideas, find inspiration, overcome challenges, and source product—and that's just what MD&M, the world's largest medical design and manufacturing event now in its 35th year, helps facilitate.
April 20-23, 2020: Anaheim, CA
RAPID + TCT is North America's largest and most important additive manufacturing event, with hundreds of hands-on exhibits, groundbreaking product announcements, education from industry experts, and great networking opportunities. Learn how to use 3D technologies to reduce time-to-market, produce stronger and lighter parts, improve efficiency, reduce waste and cost, and much more.
June 10-11, 2020: Santa Clara, CA
The region's largest design and contract manufacturing trade show is now in its 34th year, and is a great way to meet hundreds of high-quality American suppliers of custom parts, stock parts, and manufacturing services. During this two-day event, learn how to improve quality, reduce costs, accelerate delivery, get tighter tolerances, and much more, while seeing new technology in action. Admission is free!
Date TBD, 2020: Ontario, CA
While the date of this event is still to be determined, you may want to put it on your radar and check back occasionally to see when the date is set. Last year's event brought together executives, floor supervisors, and human resource leaders for six hours of idea generation.
June 16-17, 2020: San Francisco, CA
This event is designed to provide biopharmaceutical executives with current trends, strategic insights, and best practices in manufacturing, outsourcing, capacity management, quality assurance and control, regulatory compliance, operational excellence, and supply chain and logistics. You'll network with over 200 of your peers and explore strategies to maximize efficiency while remaining compliant.
September 21-23, 2021: Long Beach, California
Yes, this is a 2020 list of events, but WESTEC—the leading West Coast manufacturing trade show for new products, innovations, and networking—is not holding an event this year; instead, they are already accepting RSVPs for 2021's big event, and we didn't want you to miss out! Although the schedule is still to be determined, you can view 2019's schedule to get an idea of what to expect next year.
November 18-20, 2020: Napa, CA
Last year, the AEM annual conference was held in Florida, and this year the event comes to the Golden State! It will be held at the Meritage Resort & Spa in Napa. The agenda and speaker presentations are still in the planning stages, however you can view 2019's highlights, which focused on connected technologies and how to leverage them, to get an idea of what to expect this year.
December 9-10, 2020: San Jose, California
Now in its 12th year, BIOMEDevice brings together more than 1,500 industry leaders and over 250 suppliers. At the event, you'll join others in the medical device design and manufacturing industries to learn about the latest developments, trends, and breakthroughs. Attendees will also be able to watch demos of new technologies, discover solutions to the challenges they face, and make new connections.
21 Manufacturing Conferences Across North America
January 17-20, 2020: Seattle, WA
The aim of ICMT 2020 is to present the latest research and results of scientists related to Manufacturing Technologies topics. This conference provides opportunities for delegates from different areas to exchange ideas and experiences face to face, establish business or research relations, and find global partners for future initiatives.
February 11-12, 2020: Boston, MA
Now in its third year, this summit and exhibition aims to guide managers, entrepreneurs, and investors to the most profitable opportunities in 3D printed medical and dental applications. Plus, this year introduces a new track covering metal applications. Attendees have the opportunity to see the latest 3D printing products as well as the ability to network with other attendees to exchange experiences and conduct business.
February 23-25, 2020: Phoenix, Arizona
This year, the conference will focus on identifying ways to put ASQ Lean and Six Sigma ideas and learning into action at all levels. Quality professionals are uniquely positioned to lead and help their organizations achieve business process excellence through insightful, high-level learning and idea-sharing, and will leave with the ability to identify areas of focus within their organization for maximum financial impact.
February 26-27, 2020: Milwaukee, WI
With a theme of "Focus & Go," the 2020 MM conference will help manufacturers to expand their capabilities to grow, be innovative, and achieve operational success. There will be six tracks, with three sessions in each to choose from, in the following areas: strategic growth, improving productivity, improving business performance, workforce excellence, leading for success, and Industry 4.0.
March 9-12, 2020: Atlanta, GA
One of the industries fastest-growing shows, at MODEX 2020 you'll learn from the industry's best minds how key industry trends and innovations can transform your manufacturing and supply chain operations through more than 100 free education sessions and four powerful keynotes.
March 16-29, 2020: Fort Worth, TX
The nation's premier aerospace and defense manufacturing conference and trade show, AeroDef fosters innovation to reduce costs, expedite production, and maintain global competitiveness. This year's event includes complimentary panel discussions, conferences, technology exhibits, tours, and workshops, along with a Preferred Supplier Pavilion where attendees can identify new suppliers and potential buyers.
March 4-5, 2020: Phoenix, AZ | Mar 31-Apr 1, 2020: Orlando, FL | March 18-19, 2020: Cincinnati, OH | April 28-29, 2020: Tacoma, WA | May 12-13, 2020: Wichita, KS
With five event locations to choose from, there's an AmCon expo for you! This Advanced Design & Manufacturing Expo features products like 3D Printing, robotics, assemblies, electronics, machining, packaging, prototypes, metal, finishing, coatings, tube bending fabricating, and much more. AmCon regional expos are a cost-effective way to find suppliers of contract manufacturing and job shop services.
March 22-26, 2020: Chicago, IL
Additive Manufacturing Users Group Conference is an all-encompassing technology users group dedicated to the advancement of additive manufacturing technology. It brings together engineers, designers, and managers from around the world to share expertise, best practices, challenges, and additive manufacturing developments.
March 24-25, 2020: Chicago, IL
This leadership-focused summit is designed to improve plant floor operations through workforce management, lean manufacturing, process improvement, and automation. It serves as an annual platform to exchange ideas around the impact of market dynamics and new technologies for current and future manufacturing, Key speakers come from various disciplines within Nestle, Caterpillar, Inc., Kroger, Fender, GE, and LEGO.
April 7-8, 2020: Chicago, IL
This year's event will cover topics including building competitive advantage, lean, OPEX and CI programs, leadership as the engine of change, leveraging new technologies, supply chain strategies, and workforce development. Speakers come from leaders within Google, Ford Motor Company, Toyota, and Johnson & Johnson.
April 26-29, 2020: Miami, Florida
This event brings together food and beverage processors and suppliers to share valuable information on the latest trends and technologies in manufacturing, automation, sustainability, and food safety. The event also features an expo to highlight equipment and services. You can watch a recap of the 2015 FA&M conference here.
May 4-7, 2020: Saratoga Springs, NY
ASMC is the leading international technical conference for discussing solutions that improve the collective manufacturing expertise of the semiconductor industry. It provides a platform for semiconductor professionals to network and learn the latest in the practical application of advanced manufacturing strategies and methodologies.
May 6, 2020: San Antonio, Texas
The largest one-day manufacturing show in South Central Texas, this conference is expecting over 150 vendors and more than 500 industry decision-makers. Discover ways to cut operational costs, gain new customers, and more! Best of all, the conference is free for attendees.
May 11-14, 2020: Orlando, FL
At this annual event, supply chain leaders will gain a strategic view of the trends disrupting their business, joining thousands of other supply chain experts in learning sessions. Together, you and your peers will discover insight and frameworks that can be used to evolve strategies to adapt to market conditions, measure successes and failures, harness talent, and develop the mindset to focus on the long-term.
June 1-3, 2020: Marco Island, FL
This summit, presented by the National Association of Manufacturers (NAM), puts the spotlight on Industry 4.0, providing manufacturers with strategies to identify and deliver business value during the next phase of the digital revolution. This year's agenda is still in development, but you can view a brief recap of last year's event on their website.
June 2, 2020: Pittsburg, PA
Explore how leading companies are using transformative technologies to boost productivity, increase sales, improve efficiency, and reduce costs at this one-day event. Participants will be immersed in a world of interactive learning, hands-on technology demonstrations and even virtual reality. This is a great opportunity for start-ups to explore the latest transformative technologies and make valuable connections.
June 22-26, 2020: Cincinnati, OH
The 48th North American Research Conference is expected to attract more than 800 researchers and manufacturers from around the globe to share the latest manufacturing innovations and developments in manufacturing systems and processes, cyber-physical systems, and materials processing. This year's agenda is still in development but you can view 2019's program here to get an idea of what to expect.
July 15, 2020: Convene, NY
The CIO Manufacturing Summit brings together executives, innovative solution providers, and thought leaders to discuss technology issues affecting today's manufacturers. It's an opportunity to share successes, failures, and new ideas. Past and present speakers have come from industry-leading companies such as T-Mobile, SunTrust Bank, IBM, and others.
September 14-19, 2020: Chicago, IL
Now in its 33rd year, IMTS 2020 brings together industry professionals from all over the world experience more than 15,000 new machine tools, controls, computers, software, components, systems, and processes designed to help solve their manufacturing challenges and improve their efficiency.
September 14-19, 2020: Chicago, IL
This is where manufacturers go to discover world-leading technologies that can help them win amid all the industry disruption and digital transformation. It is considered the most comprehensive industrial technology tradeshow in North America showcasing the latest in IoT, Industry 4.0, smart manufacturing, artificial intelligence, and more.
October 26-30, 2020: Toronto, Ontario
The world's largest lean conference moves to the Great White North this year, and will feature inspiring keynotes, workshops, site tours, sessions, and networking opportunities. Catering to continuous improvement beginners and experts from manufacturing and other industries, the conference helps attendees keep current with new and developing management and operational techniques.
Which Event Is Right For You?
Manufacturing is evolving quickly; in order to compete in today's global economy, manufacturing leaders need to stay on the cutting edge. Hopefully, one of the conferences on this list has piqued your attention; make plans to attend, or send a member of your team, and check out one of our recent stories, How a Good Networking Strategy Can Grow Your Business to prepare for the event.
Another great way to network and recruit? By participating in Manufacturing Day. This year, MFG Day will kick-off on October 2, with manufacturers across California and the country opening their doors to students, educators, elected officials, and the media to spread the word about the importance of manufacturing, the benefits it brings to our nation, and exciting career opportunities within the industry. Learn more about MFG Day—and MFG Month-CA, here.