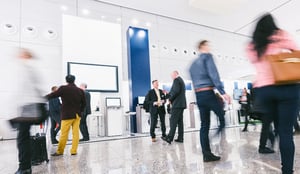 Conferences are a great way for you and your team to network with others, demo exciting new technologies, learn about topics that interest you, and gain valuable insights from industry experts. Thankfully, there's no shortage of events happening in 2019! Here are 16 conferences happening in California and around the country that you can attend.
5 Manufacturing Conferences in California
February 14, 2019
Riverside, California
Manufacturers and supporters of manufacturing in the Inland Empire area are encouraged to bring executives, floor supervisors, and human resource leaders to this annual event for six hours of idea generation. Ed Magee, Senior VP of Operations for Fender Musical Instruments Corporation, will be this year's keynote speaker. During the Summit, the E=mc² Innovation Awards will be presented to local manufacturers who submit the best innovations that result in tangible business improvement.
April 29-May 2, 2019
Long Beach, California
AeroDef Manufacturing is the premier aerospace and defense manufacturing conference and trade show in the United States, with a mission to foster innovation that will reduce costs, expedite production times, and maintain manufacturing competitiveness in the global economy. The event showcases the industry's most advanced technologies, with keynote speakers and panelists coming from the highest levels of government and business.
June 10-12, 2019
Huntington Beach, California
For the 15th anniversary of the summit, the theme "Manufacturing 4.0: Going for the Gold" was chosen. The summit's goal is to provide manufacturers with strategies to identify and deliver business value during the next phase of the digital revolution. "Creating relationships with other manufacturing leaders outside my industry helped open doors to new best practices and innovative ideas," said a GM plant manager of last year's event.
September 24-26, 2019
Long Beach, California
The leading West Coast manufacturing trade how for new products, innovations, and networking. The event will include huddle ups, keynote presentations, panel discussion, and more. Plus, new this year is the Additive Manufacturing Pavilion, a dedicated space for meeting with California manufacturers to discuss their design and production challenges—and see demonstrations of how AM can benefit their operations.
December 4-5, 2019
San Jose, California
Now in its 11th year, BIOMEDevice—a Medical Design and Manufacturing (MD&M) event—brings together more than 1,500 industry leaders and over 250 suppliers. At the event, you'll join others in the medical device design and manufacturing industries to learn about the latest developments, trends, and breakthroughs. Attendees will also be able to watch demos of new technologies, discover solutions to the challenges they face, and make new connections.
11 Manufacturing Conferences Across the Country
February 21
Milwaukee, Wisconsin
"Make it Happen" is the theme of this year's one-day conference, in which MM aims to explore ideas and best practices that can help manufacturers get more from existing resources, automate processes, and diversify their customer base. During the event, there will be 18 breakout sessions to choose from, including Workforce Excellence, Improving Productivity, Leading for Success, Strategic Growth, Leveraging Sustainability, and Industry 4.0/Technology.
March 4-5
Phoenix, Arizona
Designed for manufacturers and others who have technical and leadership responsibilities within their company, the goal of Lean and Six Sigma in the Digital Age is to help you improve processes, bring about organizational change, and develop a successful lean and Six Sigma culture. Attendees can customize their learning experience by choosing from a variety of session topics and by attending workshops.
March 26-27
Chicago, Illinois
This annual platform is billed as an "idea exchange," focused on the impact of market dynamics and new technologies for manufacturing, operations, and supply chain management leaders. In-depth discussions, with key speakers from Anheuser-Busch, CVS Health, Ingersoll Rand, Johnson & Johnson, Pratt & Whitney, and PepsiCo, will help you determine a path toward achieving innovation, improving profitability, and optimizing floor operations.
April 14-17, 2019
Miami, Florida
This 2 ½ day event brings together food and beverage processors and suppliers to share valuable information on the latest trends and technologies in manufacturing, automation, sustainability, and food safety. The agenda continues to grow, and new speakers are being added—in addition, an expo on April 15 will highlight equipment and services, and it's not too late to secure your own booth. You can watch a recap of a previous FA&M conference here.
May 6-9, 2019
Saratoga Springs, New York
The leading international technical conference within the semiconductor industry, ASMC strives to improve the manufacturing expertise within the industry. At the conference, semiconductor professionals can network and learn the latest in the practical application of advanced manufacturing strategies and methodologies.
May 8, 2019
San Antonio, Texas
The largest one-day manufacturing show in South Central Texas, this conference is expecting over 150 vendors and more than 500 industry decision-makers. Discover ways to cut operational costs, gain new customers, and more! Best of all, the conference is free for attendees.
May 8-10, 2019
Raleigh, North Carolina
This IndustryWeek conference and expo aims to provide proven, actionable approaches for solving problems and seizing new opportunities. Attendees can network with manufacturing leaders and experts who have mastered digital technologies, workforce recruitment and retention, leadership best practices, and the lean/continuous improvement methodology.
May 13-16, 2019
Phoenix, Arizona
Today's supply chain leaders need to focus on converging their capabilities with new and emerging digital strategies in order to compete and prosper. The event attracts more than 2,000 industry leaders each year.
June 10-14, 2019
Erie, Pennsylvania
The 47th North American Research Conference (NAMRC 47) attracts more than 800 researchers and manufacturers from around the globe to share the latest manufacturing innovations and developments in manufacturing systems and processes, cyber-physical systems, and materials processing.
May 20-23, 2019
Detroit, Michigan
Interested in learning more about additive manufacturing? This is the event for you! RAPID + TCT provides everything you need to know about 3D technologies. Experience hundreds of hands-on exhibits, groundbreaking product announcements, education from the industry's most respected experts, and great networking opportunities with the most experienced and influential people in 3D manufacturing. Learn how to use 3D technologies to reduce time-to-market, produce stronger and lighter parts, improve efficiency, reduce waste and cost, and much more.
November 4- 7, 2019
Chicago, Illinois
The AME conference helps attendees keep current with new and developing management and operational techniques. Throughout the week, there will be inspiring keynotes speakers—true thought leaders in innovation, leadership, engagement, and continuous improvement. Practitioner-to-practitioner sessions will also be offered in a variety of formats, including roundtables, in-depth panel discussions, and attendee-driven content to maximize your learning experience.
Manufacturing is evolving quickly; in order to compete in today's global economy, manufacturing leaders need to stay on the cutting edge. Hopefully, one of the conferences on this list has piqued your attention; make plans to attend, or send a member of your team, and check out one of our recent stories, How a Good Networking Strategy Can Grow Your Business to prepare for the event.