Video is increasingly used on the web, as it's a great way to engage your customers. According to HubSpot, it's projected that 53.5% of the populations and 70.8% of Internet users will watch an online video in 2012. Manufacturers are now realizing that they can use videos for marketing purposes. The power of video is its ability to entertain and engage your customer more than text or images ever could. Videos can be embedded into your website and also shared through LinkedIn, Facebook, YouTube and numerous other social networking sites.
Here are some powerful ways to use video to enhance your web presence:
Testimonial Video: Have one of your satisfied customers speaking earnestly about their experience with your products and services. A third party endorsement can carry a lot of weight with future customers.
Product Demonstration Video: Show your customer how easy it is to use your product; this is also useful for rapport building as your customer gets to see you or one of your employees in action demonstrating your product.
Training Video: Save money and make sure everyone is on the same page by creating a training video that can be watched by your entire staff, present and future. Any questions can be posted in the comments section below the video.

Product Launch: Why not make a video introducing your new product? You can send a link to your video to all of your current customers, use it on your website and publish it on your social media outlets.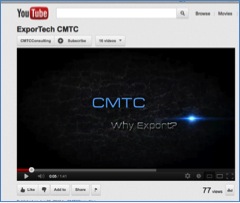 Content marketing is an extremely powerful way to demonstrate your expertise, build your online brand and engage current and prospective clients. Online video is a crucial content marketing tool that is a growing part of a comprehensive marketing strategy. Be sure your video is high quality because it is a representation of your manufacturing brand.
If you have any questions regarding online videos, please contact Ellen McKewen at emckewen@cmtc.com to find out more about special rates for CMTC customers. Check out CMTC's manufacturing videos by visiting the CMTC YouTube Page.