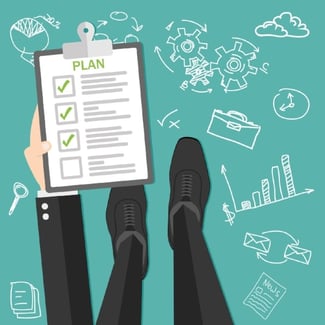 In thinking about how to prepare for an ISO quality audit, some people may have a kneejerk negative response. If "audit" makes you nervous, then focus on "quality," because the end goal here is to ensure just that.
Quality assurance is the crucial factor in the standardized system, ISO 9001. As noted in previous blogs, the International Standardization Organization updated criteria for that classification recently, in 2015. The new standards are adapted for a 21st century mindset and are less prescriptive than previous versions.
In the end, it's all about providing better value for the customer.
It's important to keep in mind that ISO quality is helpful for not only manufacturing, but nearly every industry. Anyone who utilizes processes for their job can benefit from these principles.
For guidelines on an ISO quality audit, organizations can refer to ISO 19011, which emphasizes that guidelines should be …
… systematic, independent and documented process for obtaining audit evidence and evaluating it objectively to determine the extent to which the audit criteria are fulfilled.

To phrase it another way, the audit is a quality process to see how the initial quality assurance measure is stacking up, to be determined without bias.

These procedures are usually executed at predetermined times to make sure that an organization has reliable oversight for procedures associated with meaningful actions.

Overall, these efforts can yield important insights on whether ISO processes have remained true to bringing increased value to customers. That's the bottom line of what ISO intends.

There are many things you can do to prepare for an ISO quality audit.

Look at the Organization's Internal Audit Procedure

ISO 9001 clearly lays out ways to plan and conduct audits, as well as results reported and keeping records. Of course, the more an organization gives itself to the audit, the more that can be gleaned by it. Some facets of an organization will be more important than others, so it may prove helpful to prioritize goals. However, looking at everything can yield unexpected results. Also, keep track of previous audits to see how the latest one compares.

Gain More Context of What Such Audits Can Mean

In addition to what ISO 9001 officially states, there are associated informal groups of experts that may round out a better understanding of reviews and ISO in general. The ISO 9001 Auditing Practices Group seeks to help Quality Management Systems (QMS) auditors, consultants and quality practitioners. For those looking to better familiarize themselves with audits or enhanced performance in general, the group can be a great tool.

Competence is Key for Internal Auditors

For those who are new to internally auditing ISO 9001 requirements, this is your chance to successfully navigate the procedure while adhering to guidelines. Those who have demonstrated an inability to stick to the auditing standards should not continue to manage the task. You can't rely on quality assurance reports if they are not executed in a quality-centric manner.

Adhere to the Eight Management Principles of ISO 9001

What are you trying to accomplish, and how is it best done? What are the specific reasons behind an audit? The eight principles of ISO 9001 management are:

Customer focus
Leadership
Involvement of people
Process approach
Systematic approach to management
Continual improvement
Factual approach to decision making
Mutually beneficial supplier relationship

All guidelines of an audit can be linked to the above principles, so it's important that auditors have fully absorbed them.
Use a process approach.
Just as ISO-compliant companies do well to use a quality approach (audit) to measure implemented improvements (ISO) for a company, so too does using process to measure process. Remember, the process approach for an ISO quality audit utilizes systematic management and identification of process interactions within an organization.
With the above factors to check off your list, your internal ISO audit can only be improved upon.