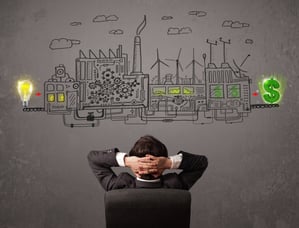 Imagine a workplace where productivity was constantly optimized, innovation was always pursued, and new opportunities were frequently discovered! A continuous improvement approach can assist manufacturers to operate on a higher level.
The continuous improvement process is one of ongoing incremental improvements, where a business continues normal business activities, while constantly seeking out new opportunities to add value to their products, services and processes. Continuous quality improvement can accomplish major change over time; however, it is completely driven by the input of employees, as its effectiveness relies on the team's dedication to the process.
The Positive Impact of Continuous Improvement
With practice and time, companies learn internally how to work in an organized efficient manner, identify opportunities, and make changes accordingly. They also learn how to pinpoint areas where value is added, where value is absent, and how to dispose of invaluable waste.
A manufacturer that adopts the continuous improvement approach will see immeasurable benefits, including:
Increased productivity

Improved quality

Lowered costs

Decreased delivery times

Improved employee satisfaction/morale

Reduced employee turnover rate
How a California Manufacturer used Continuous Improvement
For Waterstone Faucets, adopting a Lean and continuous improvement approach has made a positive impact on their business. Waterstone Faucets is a full line manufacturer and distributor of high quality kitchen faucets located in Murrieta, CA. The company of 110 employees specializes in various types of faucets and accessories, including side sprays, soap dispensers, cabinet pulls and knobs, and under sink systems.
As the company began experiencing an increase in demand, quality control problems and additional challenges were developing. Employees struggled to meet demand and fulfill orders adequately, leading to mistakes, wasted materials and client retention challenges.
The new level of demand additionally created workforce problems. "Our challenges were leading to employee turnover and we were having difficulty identifying and training skilled employees. Recruiting and training new team members were increasing our costs," says Chris Kuran, Owner of Waterstone Faucets.
In an effort to mitigate the situation, Waterstone Faucets collaborated with CMTC to engage in Lean and continuous improvement training. The company's employees began learning numerous Lean methodologies, such as Six Sigma and 5S, and learned how to identify and eliminate waste, minimize scrap, and streamline main production areas.
A "check system" was also implemented to ensure quality throughout the production process. Management also established a standardized onboarding training process to address work issues. "The process helped us focus on improving leadership skills, reducing errors, and maximizing productivity from all employees," says Kuran.
Changes Result in Sales Growth and Cost Savings
Due to the implemented changes and improved communication among employees, Waterstone Faucets was able to improve quality, reduce mistakes and ensure that orders were completed on time and correctly.
Continuous improvement is not a destination, but a journey of ongoing processes. Manufacturers that practice the Lean philosophy can achieve "breakthrough" improvements within their organization on a daily basis!