This post is the first installment (Part 1B) of six regarding the concept of Smart Manufacturing (SM). This series aims to inform manufacturers of SM's components, how it affects business productivity, economics and plans, its importance in the value chain, how it changes the workforce and the future of manufacturing overall. This series is written in conjunction with the Smart Manufacturing Leadership Coalition (SMLC).
In our first blog, What is Smart Manufacturing; we laid the foundation for SM and what it entails for small and medium sized manufacturers. Basically, we began the discussion about what it is by defining it, the benefits and why it's important.
In this blog, we will talk about the overall concept of the SM Platform, the Marketplace, what steps manufacturers can take now and whether your organization is ready for SM.
What is the Smart Manufacturing Platform?
The concept of a cloud-based open access SM platform enables manufacturers to integrate existing and future plant data, simulations and systems across manufacturing functions. The cloud is basically a secure network of servers on the internet to store, manage and process systems data and analytics. This eliminates the need for companies to purchase and maintain a large IT infrastructure that requires support.
Today, although many manufacturing processes rely on control contributions by computers, the systems and data on these computers exist in silos with little or no connectivity. The SM platform will allow processes to be integrated to support informed decision-making. In some cases, the integration of currently siloed processes may bring to light hidden inefficiencies and waste.
One of the tenets of the SMLC is, "the manufacturing industry needs an open infrastructure that can stitch disparate systems and data (existing, open and new) together to create innovative solutions." Companies of all sizes will be able to gain easy, affordable access to run simulations and gain analytical data for their particular needs. Manufacturers will have the newfound ability to shop for applications through the Marketplace that cater to their organization's needs using ANY device with internet capability.
What is the Smart Manufacturing Marketplace?
The SM Platform will be supported by an open Smart Manufacturing Marketplace that will offer both free and pay-as-you-go applications (apps) to help manufacturers fine tune their business.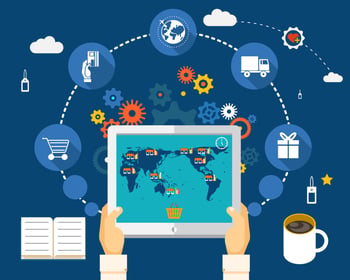 With a business model that resembles an App Store that you find today on your smart phone, this cloud-based Marketplace will allow users to affordably "window-shop" for applications while offering app reviews from fellow manufacturers and app testing abilities upon purchase of a trial version.
However, unlike the apps on your smart phone where you can only use one app at a time, you will be able to link multiple apps and create workflows that use existing processes in your company to solve specific business objectives. There will also be a certification process to ensure the validity and quality of apps in the marketplace.
The Marketplace will reduce the need to invest in long-term hardware solutions. Because you are accessing the Marketplace through the SM platform, the platform will serve as a layer of reasoning and intelligence that extends the capabilities of the physical equipment you already have.
Let's say you access the Marketplace and you are searching for apps that are associated with metal fabrication facilities and optimizing processes. Your search would retrieve apps that would offer processes optimization for metal fabrication facilities. Additionally, the Marketplace would include a basic history of the app and other types of businesses that have used it along with their reviews.
Manufacturers will have access to a broader set of talent and innovation. An open architecture will attract entirely new communities of solution providers. These providers will enhance existing solutions and lower the barriers to contributing or commercializing new, innovative software applications used in manufacturing.
While the infrastructure of the SM platform and its accompanying Marketplace has yet to be finalized, it has the potential to flip the current state of manufacturing processes and automation on its head.
What Steps Can a Manufacturer Take Now?
Without a doubt, the SM journey is already underway in larger manufacturing facilities like those of General Mills. Once the Marketplace is fully functional, progress within your organization will be possible.
There must be a way to extract the quality control data of interest from your business operations and machines. Although the SM platform is still under development, there are things that a manufacturer can do to prepare. One is to make planned equipment purchases with a view toward SM.
There is manufacturing equipment today that offers data gathering and data collection capabilities. Another is to confirm capturing of data and its contextualizing information that will be most relevant to answering/addressing your pressing business needs and challenges (use cases).
These approaches, in combination with the SM platform and the Marketplace, promise to give companies that have adopted SM a competitive advantage by better enabling fact-based decisions to address challenging issues. In order to be ready for these technological advances, a manufacturer can start taking small steps today to improve their overall production performance by beginning to invest in "low-cost" smart technology that they can use in the future.
Is My Organization Ready for Smart Manufacturing?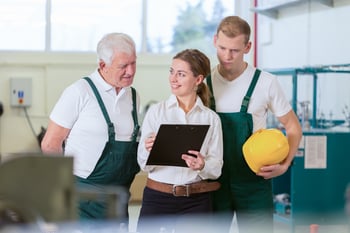 The potential for SM to revolutionize manufacturing through advanced simulation capabilities, identification and elimination of waste, and tighter integration of demand signals across customers, suppliers and partners is real.
"The more you're able to virtually test new ideas, lower the cost and the risk of trying Smart Manufacturing, the better," says Denise Swink, CEO of SMLC. SM is NOT about the size of an organization. As Swink emphasizes, "SM needs to be available for everyone," and that remains a priority for the SMLC.
SM requires a commitment from an organization's leadership to this new wave of data usage and overall optimization in order for the shift to SM to be undertaken effectively. SM may not be for every manufacturer, but likely is for that manufacturer who is invested in optimizing their business in order to grow and achieve sustainability. It's for the manufacturer always looking to improve their processes, save money and increase sales.
So think of SM as a convenient network of networks that will communicate key information about your company's operations in real-time and allow simultaneous feedback — all on an affordable, secure, open access network (SM Platform and the Marketplace). Imagine the impact on your business, product quality, internal communication and project planning.
Continue to read our Smart Manufacturing series where we will delve into other areas such as: current use cases; benefits across the value chain; an in-depth discussion about the software and hardware requirements; the effects it will have on your workforce; and next steps you can take to get ready for the Smart Manufacturing revolution.
Contributor to this blog post included interviews with Denise Swink, CEO of the Smart Manufacturing Leadership Coalition (SMLC).