---
Challenge
Allpower faced many challenges during the recession, resulting in a decrease in sales. In order to stay competitive, the company wanted to reduce costs while expanding its customer base. If the organization could increase operational efficiencies and productivity to better serve its existing clientele, it could focus on developing more customized products and solutions to attract new target markets.
Solution
In April 2011, CMTC and Allpower met to identify opportunities and developed clear objectives. The engineering and shipping departments were mentored on how Lean and workplace "5S" methodology could be applied in shipping activities. They were coached on how to stock inventory more effectively, establish more adequate production levels, package efficiently and ship orders. Throughput increased from an average of six packs per hour to nine packs per hour. This saved costs by reducing the amount of excess inventory, a frequent issue the company was facing.
By June 2011, Allpower became leaner, reduced inventory and improved manufacturing flow. This allowed them to more effectively serve its target market and set the foundation to create new products and attract new customers.
"It was great to work with CMTC. They did a thorough job of understanding our business and problems. CMTC improved productivity in the shipping area by 30% and decreased our overtime 20%."

Tony Reis
Director of Operations
Allpower

Download This Case Study
$2.25M Sales
Increased & Retained

(Dollars in Millions)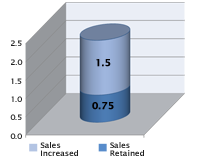 18 Jobs
Retained & Created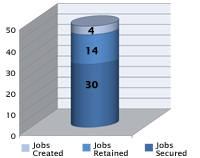 Financial & Productivity Results
$1.5M in sales increased
$750,000 sales retained
14 jobs retained
4 new jobs created