---
Challenge
Although Johnson Precision Products was experiencing sales growth in 2010, the company was also experiencing delays during their assembly procedures and inefficient manufacturing processes were impacting the quality of its products. The company needed to develop better manufacturing processes, more effectively manage demand and improve the quality of its products to increase customer satisfaction.
Solution
Johnson Precision Products requested the help of California Manufacturing Technology Consulting® (CMTC) in January 2010. Over the next year and a half, Johnson Precision Products and CMTC conducted a Blue Print Reading, CNC Training, Lean Process Training and a class on Problem Solving. The Blue Print Reading and CNC Training educated employees on the most effective way to manage machinery. Lean Process Training and Problem Solving presented employees with real world challenges and solutions which could be applied to their office and shop floor.
As a result of CMTC's programs, the company reported strategic restructuring changes within their system, drastically increasing their workflow and overcoming the production delays. Johnson Precision Products was able to realize $20,000 in cost savings. Improved processes led to increased customer satisfaction, retention of $150,000 in sales and two employees and the creation of a new position.
"The entire team at CMTC did a wonderful job helping us increase efficiencies as our company grew. We plan to use CMTC again in the future to gain further insight from their expertise."

--Paul Cronin
President

Download This Case Study
$150K in Retained Sales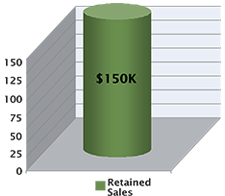 3 Jobs Created and Retained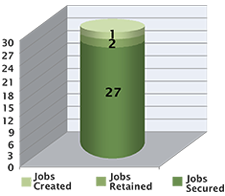 Financial & Productivity Results
$150,000 in retained sales
1 new job created
$20,000 in costs saved
$250,000 in plant and equipment investments
$25,000 in workforce development investments