---
Challenge
U.S. Motor Works experienced impressive growth during the last two decades. Since 2008, the company had two different concerns: 1) the growth of the company had been restricted because their customers required ISO certification, and 2) operational inefficiencies were experienced, thereby reducing the company's operating margins and reducing the company's ability to make investments. In early 2010, the company decided to proceed with ISO 9001 certification process.
Solution
In February 2010, the company began ISO 9001 implementation. All employees participated in a customized overview of the requirements to become certified. Management was involved in operational procedures and process development, efficiency improvement, establishment of operational indicators and internal audits to verify that the training and management review were complete and accurate. Employees were trained on the benefit and impact of ISO 9001 and their input was solicited in the development and implementation of the processes to meet requirements. The company optimized material flow within the company warehouses by standardizing the work flow and order fulfillment process thereby increasing customer satisfaction.
In October 2010, they passed their formal ISO 9001 certification audit. Implementation of the ISO 9001 process allowed them to operate with a fixed set of processes and to identify and quickly resolve problems.
"By implementing ISO 9001, CMTC helped U.S. Motor Works to better understand process efficiencies, improve products, increase customer satisfaction and enter new markets."

Doren Goren
Vice President
U.S. Motor Works LLC

Download This Case Study
Sales Increase 12%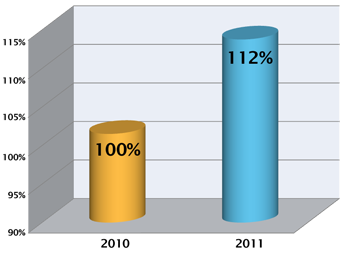 Financial & Productivity Results
12% increase in sales
10% improved operating efficiency
5% increase in productivity
5% reduction in overall inventory
2% product error reduction